BlackBerry Announces Native Support for Bluetooth Smart Ready and 2 Other Hot Stocks to Watch
BlackBerry (NASDAQ:BBRY): Current price $9.02
On Monday, BlackBerry and the Bluetooth SIG jointly reported native support in BlackBerry 10 for Bluetooth Smart Ready, which is a key enabler of seamless connectivity between Bluetooth Smart devices. Tightly joined into the BlackBerry 10 platform, developers will now be able to easily bring Bluetooth Smart functionality to their BlackBerry 10 apps, which can be written to leverage the broad range of Bluetooth Smart devices currently on the market. BlackBerry 10 apps with Bluetooth functionality are developing new opportunities for creators to provide innovative user experiences in sectors like fitness, healthcare, and automotive.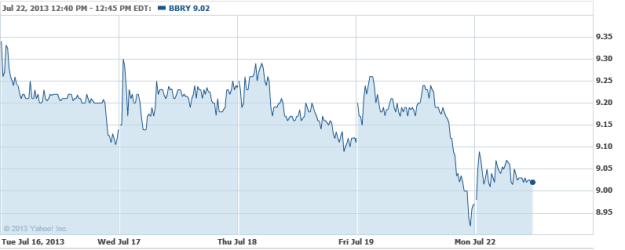 Boston Scientific Corp. (NYSE:BSX): Current price $10.07
Boston Scientific has commenced a clinical trial to determine whether occipital nerve stimulation utilizing the Precision System can safely and effectively treat chronic migraine, when used together with anti-migraine medications. The OPTIMISE trial is a multi-center, randomized, placebo-controlled evaluation, expected to be employed to support a number of regulatory approvals of this novel therapy for chronic migraine. The first patient to have this procedure used was treated at Mercy Hospital in Springfield, Missouri, by Benjamin Lampert, M.D., using the Boston Scientific Precision System, which contains multiple independent current control technologies.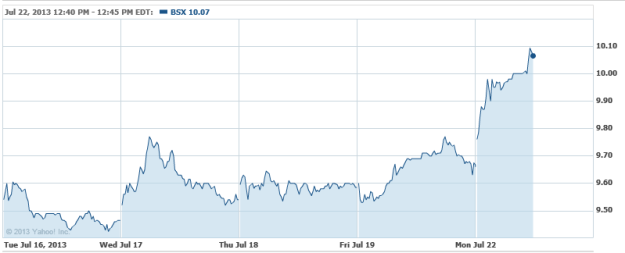 BioCryst  Pharmaceuticals, Inc. (NASDAQ:BCRX): Current price $3.73
BioCryst said Monday that the randomized, placebo-controlled, Phase 1 clinical trial of orally-administered BCX4161 in healthy volunteers successfully attained all of its goals. The tolerability, safety, drug exposure, and on-target kallikrein inhibition results of this Phase 1 trial support advancement of the development program into a Phase 2a study in hereditary angioedema patients. Further, Oral administration of BCX4161 was mostly safe and well tolerated, and no serious adverse events, and no dose limiting adverse events occurred.