BlackBerry CEO Predicts End of Tablets and 2 Other Hot Stocks To Watch
BlackBerry (NASDAQ:BBRY): Current price $16.25
BlackBerry Chief Executive Thorsten Heins has made a startling prediction about the tablet market: "In five years I don't think there'll be a reason to have a tablet anymore," he said at a conference, reports Bloomberg, adding that, "Maybe a big screen in your workspace, but not a tablet as such. Tablets themselves are not a good business model." Tablets might be good business for Apple, but for BlackBerry, not at all. Almost no one wanted the PlayBook, which was over-priced and did not have built-in email.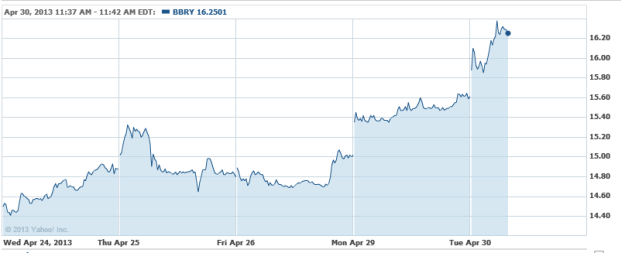 Nuance Communications (NASDAQ:NUAN): Current price $19.11
On Tuesday, Nuance said that its board has okayed a $500 million common stock buyback plan, coming from the strong balance sheet and prospects for continued growth. Chief Financial Officer Tom Beaudoin commented that , "Our decision to initiate a $500 million stock repurchase plan emphasizes the ongoing commitment on the part of the Board of Directors and the management team to enhance stockholder value and reflects our confidence in Nuance's growth prospects and long-term financial outlook. Our strong balance sheet and significant cash flow from operations provide the flexibility to simultaneously invest in our business, initiate a share repurchase program and opportunistically take advantage of strategic opportunities."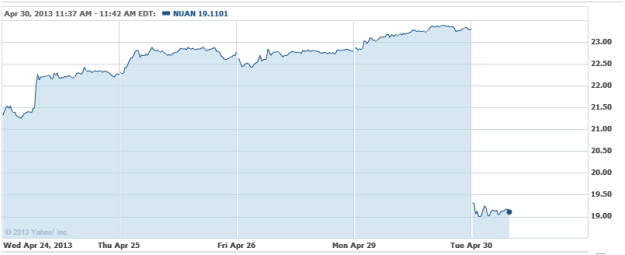 Pitney Bowes (NYSE:PBI): Current price $13.51
The company's board has approved a reduced second quarter dividend of 18.75 cents per share for the common stock. This quarterly cash dividend is payable June 12, to stockholders of record on May 10. In addition, the board declared a quarterly cash dividend of 53 cents per share on the $2.12 convertible preference stock, payable July 1, to stockholders of record as of  June 14, and a quarterly cash dividend of 50 cents per share on the 4-percent convertible cumulative preferred stock, payable August 1, to stockholders of record as of July 15.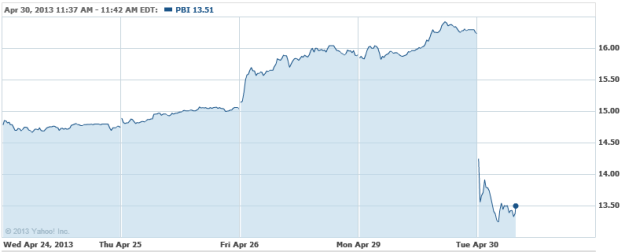 Don't Miss: Can Apple Halt the iPhone's Collapsing Market Share?