BlackBerry Demand Won't Be Sustained and 2 Other Heavily Traded Stocks
Ziopharm Oncology (NASDAQ:ZIOP): Current price $1.98
Ziopharm Oncology's most advanced product, the potential cancer treatment palifosfamide, failed in a late-stage evaluation. The firm also said that it would immediately switch its strategic concentration to synthetic biology programs and commence a restructuring program to summon resources for that. At this time, Ziopharm has no products on the market. Shares had risen as high as $5.95 earlier in March, capping a weeks-long rally after the company said it would go forward with data analysis from the palifosfamide trial. Palifosfamide was being evaluated as a treatment for patients suffering from soft tissue sarcoma, which is a cancer that forms in connective tissue.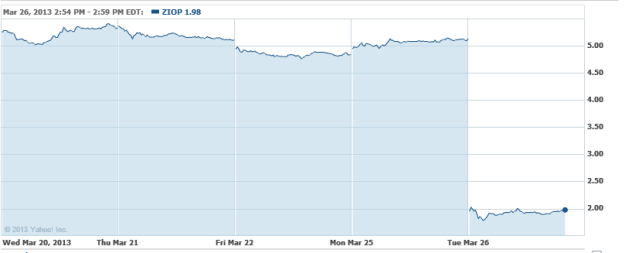 Bank of America Corporation (NYSE:BAC): Current price $12.27
The chief of European bank equity research at Bank of America's Merrill Lynch division in London, Derek de Vries, has exited the firm, said an e-mail sent to clients obtained by Bloomberg, whose  compiled data showed that the analyst joined Merrill Lynch in 2002.

BlackBerry (NASDAQ:BBRY): Current price $14.43
Colin Gillis at BGC Partners believes that the BlackBerry's Z10 could realize some amount of success from loyal users initially, but the difficulty remains that demand won't be sustained, according to MarketWatch. In a report, Gillis remarked that "there are flaws in how the company is positioning itself in the smartphone market. At a time when the high end of the market is showing signs of saturation and slowing growth, the company is investing the majority of its resources pursuing that segment."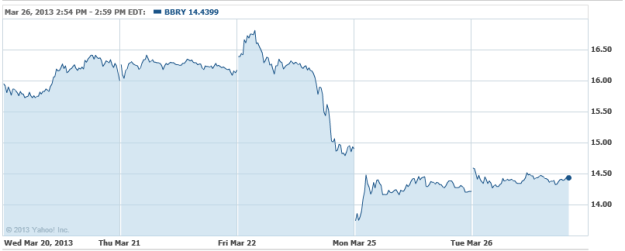 Don't Miss: Blackberry's New Pitch: Desperation or Genius?