BlackBerry Gets a Downgrade, Coke and Pepsi Look Beyond Soda, and 2 More Hot Stocks
BlackBerry (NASDAQ:BBRY): Bernstein's Pierre Ferragu has downgraded the company to Hold, and lowered the price target from $22 to $15 in light of "few positive catalysts coming through in the next six months." He added that  "we dislike the risk/reward of our BB10 trade." The move comes against the current, as many other firms have been upgrading BlackBerry's shares on the excitement generated by the new Q10, which has apparently been selling quite well.

Coca-Cola (NYSE:KO): As health conscious consumers are pushing for more healthy alternatives to soda, many are finding that water just isn't cutting it. Good news for Coke and PepsiCo (NYSE:PEP), which are addressing the need with lines of enriched, flavored waters that people will enjoy more than the pure stuff, and more importantly, will pay more for.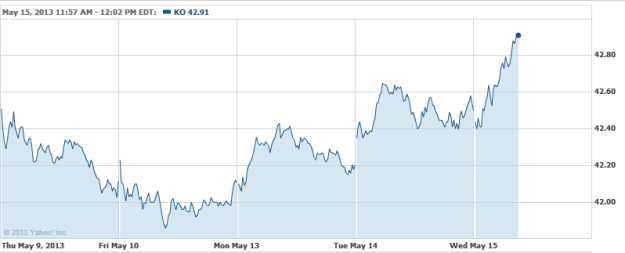 Boeing (NYSE:BA): Following a four month grounding, Boeing is resuming its deliveries of the 787 Dreamliner, and has began chipping away at its backlog of orders. The company says it still expects to deliver 60 of the planes this year. Profit margins may suffer in the short-term though, since the planes being delivered are also some of the earlier jets, which cost more to produce and were discounted to lure buyers, Reuters notes.

Netflix (NASDAQ:NFLX): Netflix content accounts for roughly one-third of broadband traffic in North America, consistent with its rates from a year ago, and poses a mixed blessing for cable and satellite providers. While the raw load of content puts a strain on the providers' systems, it provides a valuable pitch to sell customers higher internet speeds.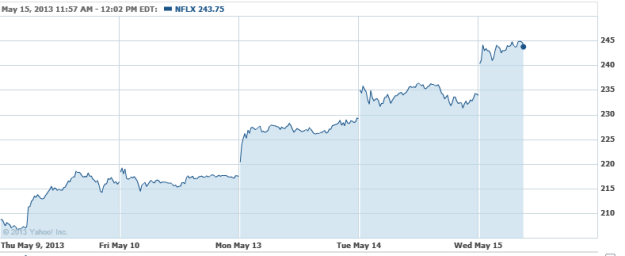 Investing Insights: Is This a New Frontier?