BlackBerry Lacked Turnaround Plan But Still Has Value in Assets
BlackBerry Ltd. (NASDAQ:BBRY): The CEO of leading Canadian pension fund Alberta Investment Management Corp., Leo de Bever, has confirmed that AIMCo was in fact involved in talks to take BlackBerry private, but the fund never obtained a business plan from BlackBerry that instilled de Bever with the confidence that the smartphone maker could stage a turnaround. Regardless, de Bever still believes that there is value in BlackBerry's assets like its patent portfolio, real estate, and cash.

Herbalife Ltd. (NYSE:HLF): Shares of Herbalife are trading up despite noted Herbalife critic Bill Ackman renewing his argument against the company at the Robin Hood Investors Conference, as he considers it to be something of a glorified pyramid scheme. Though shares dipped, they have recovered, trading up nearly 6 percent.

Caterpillar Inc. (NYSE:CAT): Caterpillar is staring down the wrong end of a probe looking into whether a subsidiary of the company was dumping train parts into the ocean near the Port of Long Beach in California as part of a possible scheme to charge railroad companies for unneeded repairs, sources told The Wall Street Journal. Caterpillar revealed via a securities filing three weeks ago that it had received a federal grand jury subpoena to provide documents and information on its Progress Rail unit, which repairs locomotives and railcars.

Royal Dutch Shell PLC (NYSE:RDSA): Royal Dutch Shell said that it is now achieving low direct unit operating costs at the Changbei natural gas field, which it is developing in conjunction with PetroChina (NYSE:PTR). Shell's direct operating costs fall at about $1 per barrel of oil equivalent, or lower than similar projects, according to Xu Li, Shell's general manager of the field. Shell's 2013 capital expenditures in China will total roughly $1 billion, with most of it going to shale gas exploration in Sichuan.

Intel Corp. (NASDAQ:INTC): Intel's shares are trading lower in the wake of an apparently uninspiring analyst day as Bernstein and Goldman Sachs issue some negative commentary, though Jefferies boosts its price target to $32. "While keeping capex high to maintain its manufacturing edge, Intel is trying to offset declining sales of Core PC CPUs by ramping sales of Atom CPUs that often have far lower ASPs, and which some think could end up cannibalizing low-end Core sales," Seeking Alpha observes.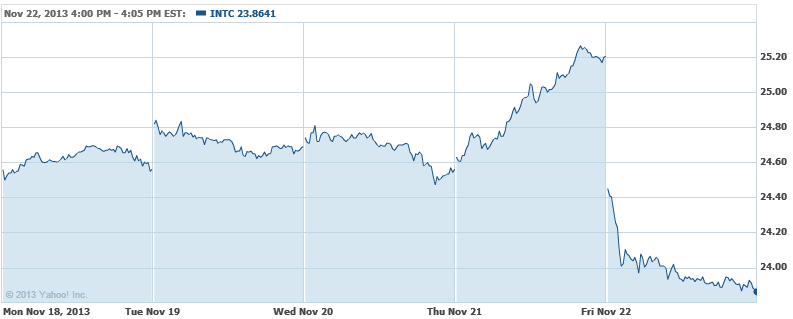 Don't Miss: Will Charter Get Its Hands on Time Warner Cable?