BlackBerry Loses 2 More Executives and 2 Other Hot Stocks to Watch
BlackBerry (NASDAQ:BBRY): Current price $9.21
Dow Jones Newswires reports that two more BlackBerry executives in charge of key functions have exited the smartphone maker. T.A. McCann was vice president of social networks and Marc Gingras oversaw retooling calendar and contact applications for the BlackBerry 10 operating system. The news comes after the departure of a number of BlackBerry executives in 2012, including co-CEOs Jim Balsillie and Mike Lazaridis, Chief Technology Officer David Yach, and Chief Operating Officer Jim Rowan. The current CEO, Thorsten Heins, took over in January 2012, after Balsillie and Lazaridis left.

Advanced Micro Devices (NYSE:AMD): Current price $4.38
Shares of Advanced Micro Devices are up more than 10 percent in heavy trading Thursday after analyst Bobby Burleson at Canaccord Genuity raised the stock's rating to Buy from Hold, pointing to the chip maker's potential gains in the embedded market. Tech stocks were mostly higher Thursday morning, as shares of Microsoft Corp. moved up after CEO Steve Ballmer unveiled a much-anticipated reorganization plan.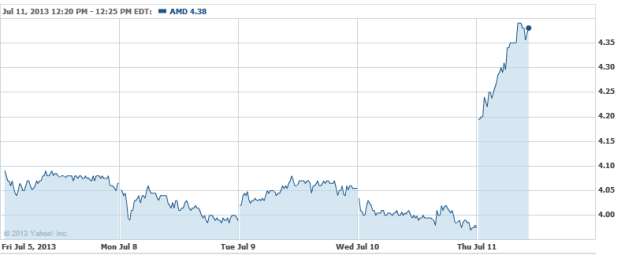 Ford Motor Co. (NYSE: F): Current price $16.92
The historic automaker's board has declared a third-quarter dividend of 10 cents per share on Ford's outstanding Class B and common stock. This amount is at the same level paid in the first and second quarters of 2013, and double the amount paid in the same quarter of 2012. The third-quarter dividend is payable September 3 to shareholders of record as of August 2.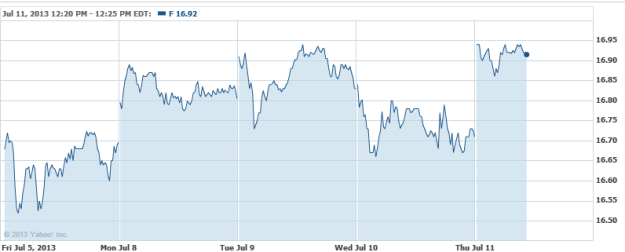 Don't Miss: Did T-Mobile Just Start the Most Attractive Upgrade Program of All?