BlackBerry Margins May Falter and 2 Other Heavily Traded Stocks
BlackBerry (NASDAQ:BBRY): Current price $14.67
Analyst Kulbinder Garcha at Credit Suisse reiterated an Underperform on the shares of BlackBerry and a $10 price target, writing that the firm's 10-K filing implies lower gross margin on the recently released Z10 handset than the Street imagines, according to Barron's. BlackBerry's fiscal fourth quarter report featured lower-than-anticipated revenue but higher-than-expected profit per share, which some analysts credited to higher average selling prices for the Z10 and thus a higher gross margin. Garcia thinks that the improvement from third to fourth quarter in gross margin was partly a result of a lowering in amortization by BlackBerry thanks to a change in accounting.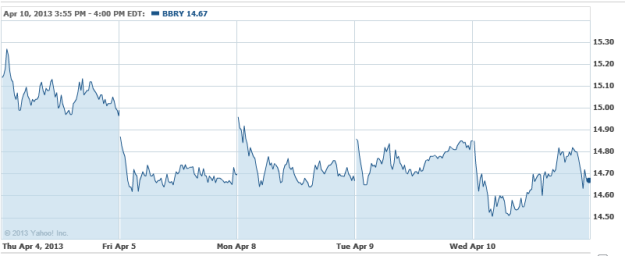 Pfizer (NYSE:PFE): Current price $29.98
On Wednesday, Pfizer reported that its experimental pill for advanced breast cancer has been designated as a breakthrough therapy by the FDA. The breakthrough designation, created under legislation enacted in the summer of 2012 to fund and improve operations of the FDA, is meant to accelerate development and review of experimental treatments that are viewed as meaningful advances over current therapies for serious diseases. Palbociclib is being studied as an initial treatment for the largest subgroup of postmenopausal women whose breast cancer is locally advanced or has spread elsewhere in the body.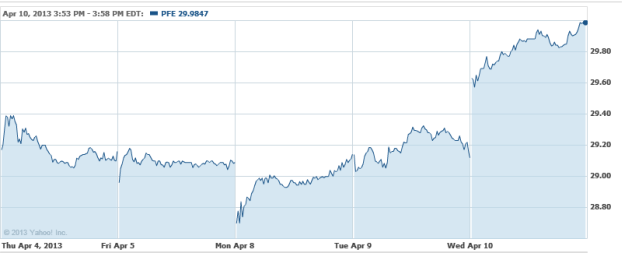 J.C. Penney & Co. (NYSE:JCP): Current price $13.95
It looks as if the billionaire investor Bill Ackman is staying with J.C. Penney regardless of his previous support of former chief executive Ron Johnson, who was pitched out earlier this week following his year-long stint at the iconic retailer failed to bring back sales, said FoxBusiness. Even though the Johnson fiasco was a major faux pas for the retailer and ignited fears that the firm might have to use the help of bankruptcy protection, Ackman will maintain his interest and position on the Penney board, according to The New York Post. Ackman, who holds around 18 percent of Penney's outstanding shares, was at the forefront of Johnson's appointment to CEO in 2011.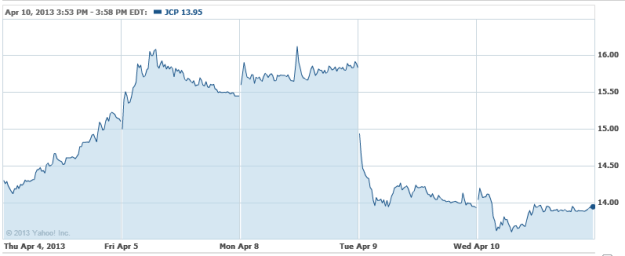 Investing Insights: Will Pfizer Continue This Bullish Run?