BlackBerry May Remain Niche Player and 2 Other Heavily Traded Stocks
Intel Corporation (NASDAQ:INTC): Current price $21.84
James Covello at Goldman Sachs has a suggestion for Intel: reduce capital expenditures. Covello has a Sell on Intel shares, along with a $16 price target, and believes that a 3 percent rise in the shares through Tuesday was about it, so far as investors expecting Intel to cut some of the $13.5 billion in spending it has planned for 2013. After spending all of its operating cash flow in seven of the past eight quarters, on capital spending, on dividends, and on share buybacks, net cash fell from $20 billion to $5 billion from the fourth quarter of 2010 through the same period of 2012. Also, Covello thinks that PC inventories are too high, and that Intel has been unnecessarily adding to that inventory build-up.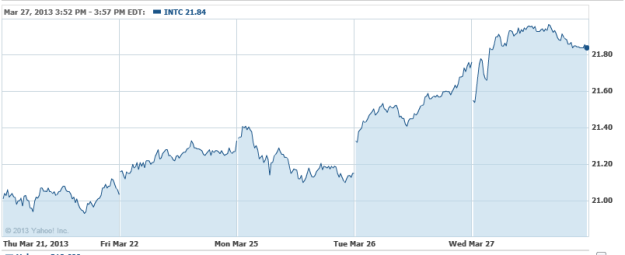 Oracle Corporation (NASDAQ:ORCL): Current price $31.94
Oracle is debuting two computer systems based on chip designs bought from Sun Microsystems, as it intends to win market share from International Business Machines Corporation (NYSE:IBM) and repair a slide in hardware sales. The servers, one being a set of mid-range computers that use a chip called the T5 and the other a high-end system using the more powerful M5 chip, were introduced at Oracle's headquarters in Redwood City, California. Oracle needs to reinforce its computer sales and keep customers as hardware revenue, including servers and storage obtained in the 2010 purchase of Sun, declined 23 percent to $671 million in the fiscal third quarter, which ended in February.

BlackBerry (NASDAQ:BBRY): Current price $14.72
StreetInsider reports that the BGC Partners analyst Colin W. Gillis forecasts that "at best" BlackBerry "becomes a niche player" that has a small although very loyal group of customers that will help it survive the yearly onslaught of new devices from big-name players. But, Gillis warns that this is the best-case scenario and that BlackBerry still has a lot of potential woes ahead, particularly in its endeavors to retain customers in emerging markets. In particular, Gillis has a problem with the firm's present strategy of trying to persevere in the high-end market with its first BlackBerry 10 devices, while it appears to give less priority to new low-end devices in emerging markets.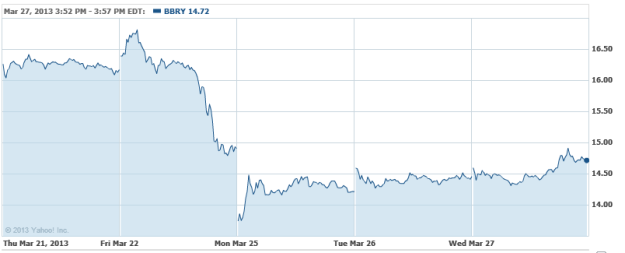 Investing Insights: Is 3M Still a Gem?