BlackBerry Previews New Mobility Management Solution and 2 Other Hot Stocks to Watch
BlackBerry Ltd. (NASDAQ:BBRY): Current price $7.99
At Gartner Symposium/ITxpo 2013 on Monday, BlackBerry previewed a new multi-platform cloud-based enterprise mobility management solution that will help businesses easily secure and oversee corporate and personal devices. The new cloud-based EMM solution will afford firms the ease, flexibility, and cost controls to support BYOD, permitting employees to enjoy the content and applications they need while maintaining the security requirements and productivity gains of mobilizing for the organization. Gartner projects that one-half of employers will require their employees to supply their own device for work purposes by 2017. BlackBerry shares are trading up almost by 4 percent in morning trading.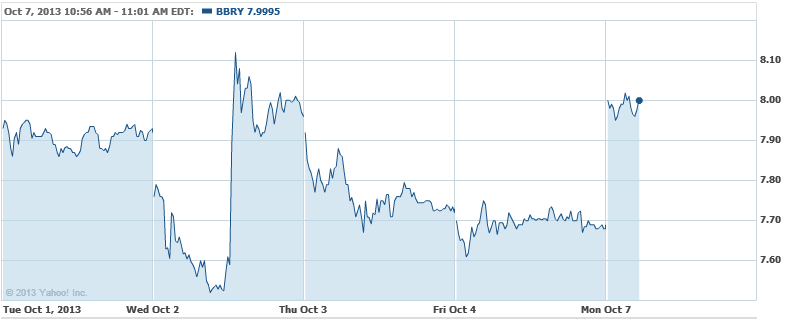 Bank of America Corp. (NYSE:BAC): Current price $13.91
A court in the United Kingdom announced that it will conduct an inquest into the death of Bank of America Merrill Lynch intern Moritz Erhardt, following a post-mortem examination that indicated he died from epilepsy. The inquest at the coroner's court in London is scheduled for November 22 at 4.00 a.m. Eastern Time and should last about an hour. Erhardt was in the last few days of a seven-week internship at the bank's investment banking unit when he was found dead in his London residence on August 15.

Micron Technologies Inc. (NASDAQ:MU): Current price $18.71
On Monday, Citigroup raised its price target for Micron shares from $19 to $30, pointing to higher DRAM price assumptions and reiterates its Buy on the stock. Shares have set a new 52-week high Monday at $18.85 and are up around 1.25 percent in heavy volume.

Don't Miss: Are These Companies in Talks to Purchase BlackBerry?