BlackBerry Targeted By Short Sellers and 2 Hot Stocks to Watch
Ford Motor (NYSE:F): The company was "shocked" by a series of Indian poster advertisements, including one showing women tied up in the trunk of a Ford driven by ex-Italian Prime Minister Silvio Berlusconi, according to its chief marketing executive. The Indian company that produced the ads has fired employees due to the incident that occurred earlier this week. "All of us were shocked," stated Jim Farley, who is Ford's global marketing and sales chief, Reuters reports. "We've updated, of course, all of our creative review process. We take this matter very seriously."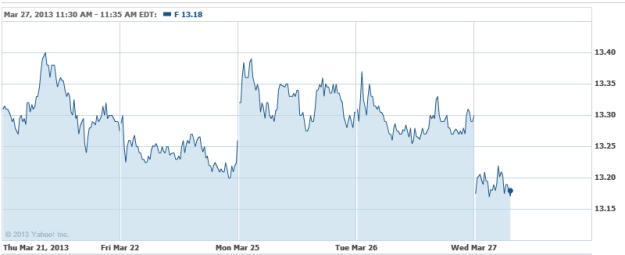 Oracle (NASDAQ:ORCL): Oracle will introduce two computer systems based on chip designs that were acquired from Sun Microsystems as it hopes to win market share from International Business Machines (NYSE:IBM) and return to a higher amount of hardware sales. The servers, one a set of mid-range computers using a chip called the T5 and the other a high-end system using the more powerful M5 chip,were revealed at Oracle's headquarters, Bloomberg reported. Oracle continues to be the largest maker of database software, and it needs to bolster its computer sales and retain customers as hardware revenue, which dropped 23 percent to $671 million during fiscal third quarter, which ended during February.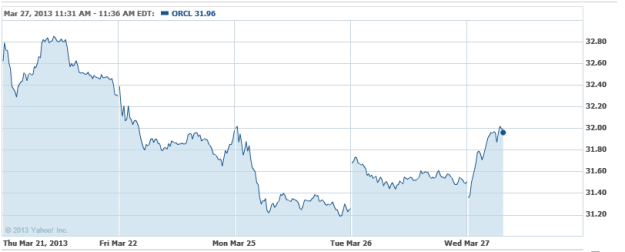 BlackBerry (NASDAQ:BBRY): The company's share price more than doubled over the most recent six months because of all the talk regarding its new smartphones, boosting investor confidence, but some traders believe that talk of a turnaround is a little over-hyped. NASDAQ data released on Tuesday indicates that short interest in the stock is at record levels and more than doubled over the course of the last year, Reuters reports. BlackBerry is due to report quarterly results in two days, presenting investors with their first official clues concerning demand for its new Z10 touchscreen device, that buildup of bearish bets have the potential to send the stock price surging if the company reports a positive surprise.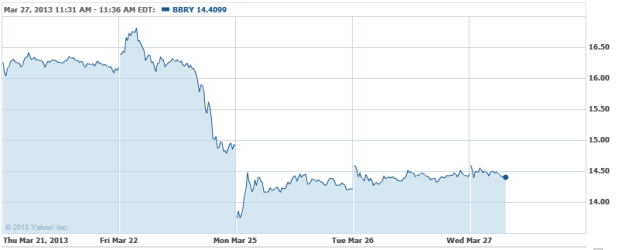 Don't Miss: Will Debt Ruin Your Retirement?