BlackBerry Teases Apple and 2 Other Heavily Traded Stocks
BlackBerry (NASDAQ:BBRY): Current price $15.01
BlackBerry will allow Apple (NASDAQ:AAPL) iPhone and Google (NASDAQ:GOOG) Android owners to take the new BB 10 software for a test drive in their mobile browser. The demonstration gives users an opportunity to try out the interface, predictive keyboard, BlackBerry Messenger, BlackBerry Hub, and other programs that are inside BB 10. The demo is not fluid, but provides a sense of what it is like to use the Z10. To access the demo on the iPhone or Android phone, users must point the mobile browser to BlackBerry.com/glimpse.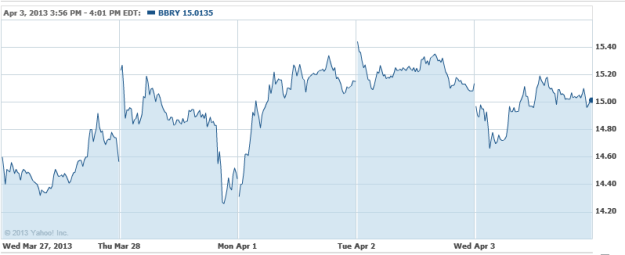 Microsoft Corporation (NASDAQ:MSFT): Current price $28.61
An update to SkyDrive for iOS arrived in the App Store on Wednesday, indicating that Microsoft and Apple must have made amends. It was first revealed in December that Apple and Microsoft were in a dispute regarding in-app subscription fees for Microsoft's SkyDrive cloud storage service. Late in 2012, Microsoft confirmed it had experienced a "delay in approval" of the updated version of SkyDrive for iOS, and said that it was "in contact with Apple" hoping to reach a solution.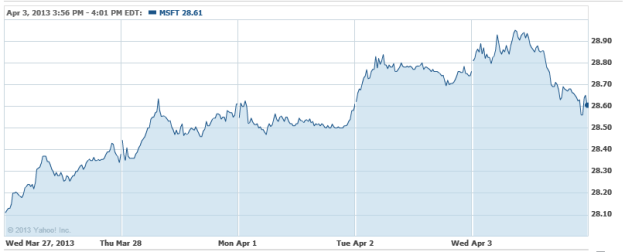 Pfizer (NYSE:PFE): Current price $29.06
The world's largest drugmaker will pay closely-held Bind Therapeutics up to $200 million per potential drug to develop medicines utilizing its nanotechnology platform, according to Bloomberg. The firms will work jointly on preclinical work, and Pfizer will have the choice of pursuing development of compounds it selects. Bind may receive as much as $50 million in upfront and development payments and is eligible for $160 million more per compound connected with regulatory and sales goals.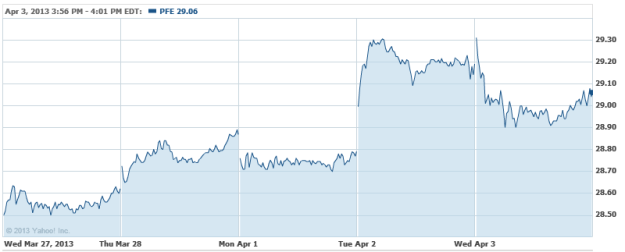 Don't Miss: This is What Apple's Job Creation Looks Like.