BlackBerry Z10 Returns Not Concerning and 2 Other Hot Stocks
U.S. Bancorp (NYSE:USB): U.S. Bancorp has posted its quarterly earnings, and was happy to report that it experienced a 9 percent rate of growth in earnings per diluted share, or $0.73 for a total of $1.4 billion in net income. Loan growth grew 5.8 percent, while deposit growth clocked in at 7.3 percent. The first quarter revenue of $4.8 billion missed expectations by $0.16 billion, and fees from mortgage banking fell by roughly $50 million. The company also said to expect a recommendation of an 18 percent increase in its second-quarter dividend.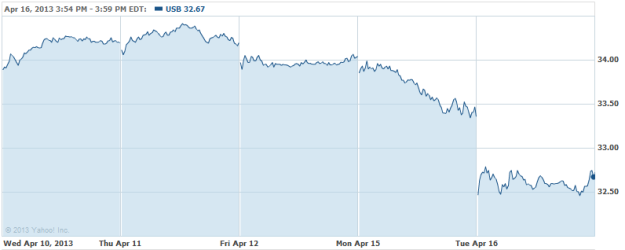 BlackBerry (NASDAQ:BBRY): Despite a report released by Detwiler Fenton recently which suggested that the rate of returns of BlackBerry's new Z10 smartphone was outpacing the rate of sales, other analysts beg to differ. Jefferies analyst Peter Misek found that the most common reason for returns was the customers thought the phone had a physical keyboard, not a touchscreen based one, contrary to Detwiler's report that most returns were attributed to limited app availability and UI-related confusion. The smartphone maker launched its own investigation into the claims, but from where other analysts are sitting, the rate of returns is normal for a new handset.

Pfizer (NYSE:PFE): According to non-profit watchdog ProPublica, a new Pfizer drug called Torisel was cited by the FDA for relying on tainted data, along with over 100 other drugs that have been approved by consumption in the United States. The report alleges that studies conducted between April 2005 and August 2009 on household drugs, mostly generic versions brand-name products, 'might be worthless', and the lab that was singled out by the FDA was responsible for analyzing blood samples of certain patients to test Torisel's effect on hearth rhythms as required by the administration. Torisel is used for treating kidney cancer.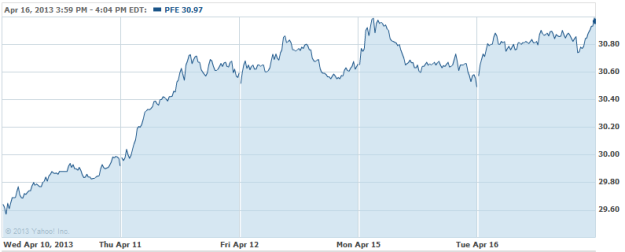 Don't Miss: Could a Cheap iPhone Cheapen Apple?