BlackBerry's Big Surprise, Twitter Shares May Be Getting More Expensive: Market Recap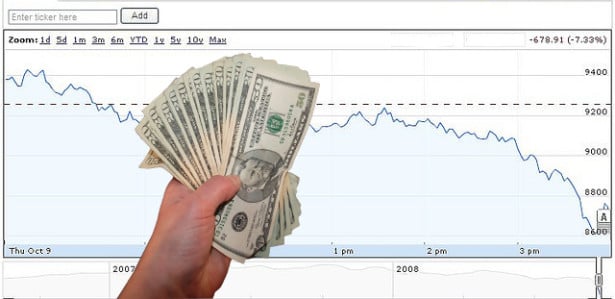 U.S. stocks rose during trading today as 76 percent of the companies in the S&P 500 who have reported earnings thus far have exceeded analyst expectations. Data released today showed that factory orders increased 1.7 percent in September. Investors are also waiting on data about the GDP and consumer confidence due later this week. Economists are closely watching the health of the economy for signs that it has improved enough for the Federal Reserve to begin curbing stimulus.

Gold: +0.09% to $1,314.40 per ounce Oil: -0.13% to $94.49 per barrel U.S. 10-Year: -0.69 to 2.60%
Economic Confidence Remains Low But Spending Sputters Higher: "Americans' standard of living perceptions have declined and economic confidence remains deeply negative," said Gallup's Brendan Moore in the research firm's monthly analysis of Americans' self-reported daily spending. Gallup's data showed that by the end of October, its U.S. Standard of Living Index sunk to a 10 month low, dropping 8 points that month and providing strong evidence that the American consumer was rattled by the political crisis in Washington.
Bruised But Not Broken: U.S. Manufacturing Weathers the Storm: The U.S. Census Bureau, together with the Department of Commerce, issued its full report on durable and nondurable manufacturing for both August and September on Monday. The double report comes in the wake of the 16-day partial government shutdown, which interrupted the regular reporting of manufacturing data.

S&P 500 Predictions: Bulls vs Ghosts of Markets' Past: The S&P 500 is poised for its largest annual increase since 1997, provided that history repeats itself. Data compiled by Bloomberg and Standard & Poor's is banking on this in predicting the potential year-end results for the stock market. Since 1928, November and December have seen share increases 82 percent of the time. On average, shares rise 6 percent. If the historical trend continues, the S&P 500 would reach an all time high of 1,862.79.

Here's your cheat sheet to today's top stock stories:
Twitter Inc. (NYSE:TWTR) is expected to price its highly anticipated initial public offering by Wednesday, and demand for a stake in the social media platform is already enormous. Recent regulatory filings show that Twitter had planned on offering 70 million shares between $17 and $20 each, but reports suggest that the price for Twitter shares could be increased before the debut to a range as high as $23 to $25 per share.

BlackBerry (NASDAQ:BBRY) had a surprise for consumers, investors, and analysts Monday when the struggling tech company announced its decision to drop its sales bid and instead restructure with a new chief executive officer. Following the announcement, shares of BlackBerry plunged 16.4 percent to close at $6.49 a share. The news caught investors off guard at the beginning of the new trading week as Monday marked the deadline for other firms to make a bid against Fairfax Financial Holdings for BlackBerry's long-awaited buyout.

Kellogg Co. (NYSE:K) reported favorable third-quarter earnings results this morning. The food-products company reported that net sales remained effectively flat at $3.71 billion, in line with analyst expectations. Kellogg's earnings increased by 1 cent to 90 cents per diluted share, beating the mean analyst estimate of 89 cents. Kellogg's net sales for the quarter were effectively flat on the year, edging down fractionally, but are up about 6.2 percent this year to date. The obvious question is this: Where is the growth coming from?

AK Steel Holding Corp. (NYSE:AKS) had its stock raised by Goldman Sachs on Monday from Sell to Buy, as it said that the outlook for the domestic steel industry is improving due to higher demand. AK shares are by up more 11 percent after climbing as much as 13 percent, marking the largest intraday rise since June 27. Analyst Sal Tharani at Goldman said, "We see the sector heading to a sustainable recovery over the coming years," in a note as he raised his view of the steel industry from Cautious to Neutral.
Groupon Inc. (NASDAQ:GRPN) is also riding an upgrade today. Deutsche Bank issued a note on Monday in that it recommends using the 20 percent pullback in shares of Groupon since late September as a buying opportunity. The firm expects Groupon's results to be within its guidance range and sees the company as one of the best long-term plays in mobile and local. The firm has a Buy rating on the stock and a $17 price target.
Follow Jacqueline on Twitter @Jacqui_WSCS
Don't Miss: Plot Twist: BlackBerry Abandons Sales Bid and CEO.