BlackBerry's Privatization Rumors, Inside Evercore's Upgrade of Microsoft, and 3 More Hot Stocks
BlackBerry (NASDAQ:BBRY): BlackBerry shares are racing over 5 percent as reports surface that CEO Thorsten Heins and the company's board are considering taking the company private. The move, which echoes Dell's (NASDAQ:DELL) current situation, would be an effort to try to restructure and solve the company's numerous problems away from the unrelenting Wall Street oversight. BlackBerry "has not launched any kind of a sale process," Reuters reports, and obtaining the necessary financing would pose challenges of its own.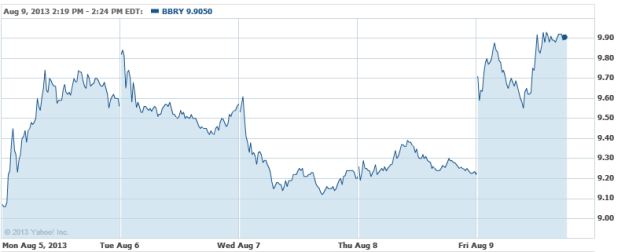 Microsoft Corp. (NASDAQ:MSFT): More on Evercore's recent upgrade of Microsoft: Kirk Materne says the company's Office and Server & Tools divisions are worth a combined $24-$26 per share just by themselves. At $6 per share in net cash and a 30 percent tax rate assigned to offshore cash, the analyst sees downside risk to be "fairly low" for the company in spite of its well-publicized problems with Windows, Seeking Alpha notes.

Youku.com Inc. (NYSE:YOKU): Shares of Youku.com are sliding nearly 10 percent as the company reported second-quarter revenue of $122.8 million — a 30 percent gain year over year — almost spot on with the $122.7 million consensus. The company is looking for $135.6 million to $142.2 million in revenue against a consensus of $139.5 million.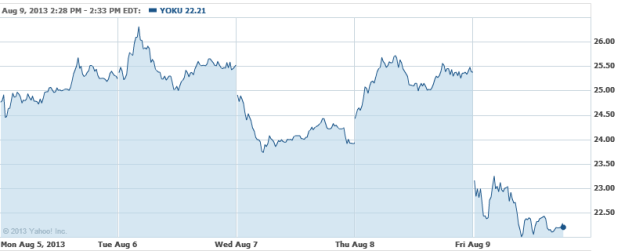 Dendreon Corp. (NASDAQ:DNDN): An earnings per share loss of 45 cents missed by 3 cents, and revenue of $73.3 million missed by $2.31 million. While that's not good news, shares are down over 20 percent as a wave of analyst downgrades takes their toll. Wedbush puts the price target at $0 and Bernstein weighs in with "What can be said? It keeps getting worse," while TheStreet's  Adam Feuerstein notes that the company's chief financial officer exit raises even more questions about the company's viability.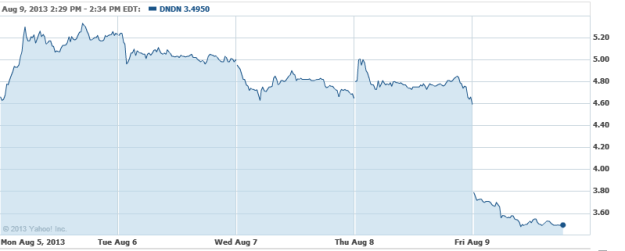 Priceline.com (NASDAQ:PCLN): EPS of $9.70 beat expectations by 34 cents in the second quarter as revenue of  $1.68 billion beat by $20 million. Gross books grew 38 percent year over year. The company saw gross travels bookings growth of 27-34 percent and revenue gains of 23-30 percent for the third quarter.

Don't Miss: 3 Crucial Court Cases Apple Is Dealing With.