BlackBerry's Rough Quarter, Ford Issues a Recall, and 3 More Hot Stocks
BlackBerry (NASDAQ:BBRY): Significant misses has driven BlackBerry shares down over 25 percent, as smartphone shipments of 6.8 million were up 13 percent sequentially, but fell far short of consensus of 7.5 million. "The smartphone market remains highly competitive, making it difficult to estimate units, revenue, and levels of profitability," the company said.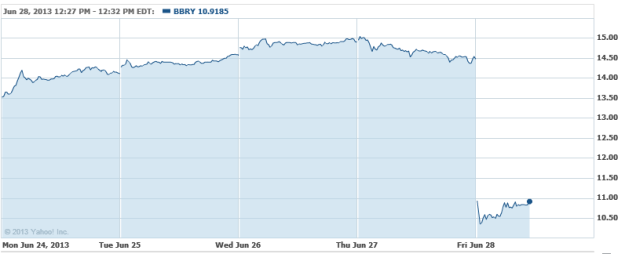 Ford Motor Company (NYSE:F): Ford has recalled 13,000 Explorer, Taurus and Lincoln MKS cars and SUVs for a fault that might cause the rear child safety locks to not work. Cars of the 2013 model year and sold in the U.S., Canada, and Mexico are the vehicles primarily affected. Ford says the safety locks can be turned off when the doors are opened or closed, allowing a door to be opened with the inside door handle and possibly hurt a child. The company says no injuries have been reported from the problem.

Netflix, Inc. (NASDAQ:NFLX): Netflix has renewed the show Orange is the New Black for a second season, ahead of the comedic prison drama's July 11 premiere on the company's platforms in the U.S., Canada, U.K., Ireland and Latin America. The show joins Hemlock Grove, House of Cards, and possibly a another season of Arrested Development from the skunkworks at the streaming service.

Starbucks Corporation (NASDAQ:SBUX): In efforts to further diversify from its trademark coffee-based beverages, Starbucks is reportedly testing new carbonated "Sparkle Drinks." RBC Capital contends that they could drive sales in off-peak hours when they are launched nationally.

Barrick Gold Corporation (NYSE:ABX): A Chilean judge has indicated that he will visit the company's troubled Pascua-Lama mine on Monday, to evaluate the suspended project before making the decision to allow the mine to resume. The struggling project was put on hold in April amid claims of environmental damage.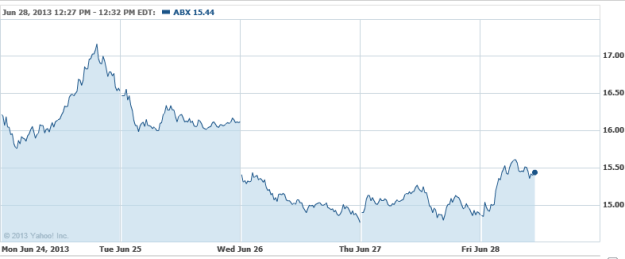 Don't Miss: Here's Why Airlines Love Apple's iPad.