BlackBerry's Ugly SEC Filing, Tesla Gets Downgraded: Market Recap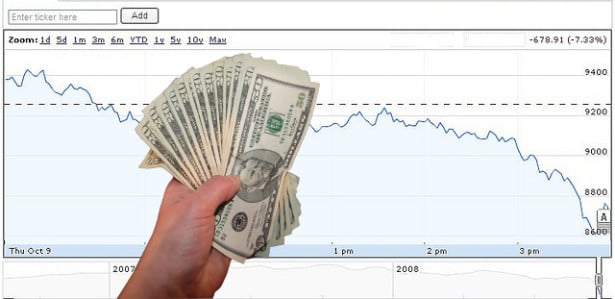 U.S. stocks fell on the second day of the government shutdown as investors have become more worried that the shutdown could last longer than previously predicted. Economists are saying that as the shutdown reaches a week or two in length, the potential for a negative effect on the economy will become more serious. A report from ADP Research released today showed that companies hired fewer workers than had been forecast in September.

Gold: +2.35% to $1,316.30 per ounce Oil: +1.86% to $103.94 per barrel U.S. 10-Year: -0.76 to 2.626%
What Does the Shutdown Mean for the Debt Ceiling? As much as everybody would like to put on blast goggles, keep their heads down, and avoid the political trench warfare that has once again come to dominate Washington, it does not seem possible to simply ignore the partial shutdown of the federal government. Without a continuing resolution in place, Uncle Sam tripped into the new fiscal year missing appropriations for all nonessential U.S. government activities.

Gallup: Federal Employment Increased on Eve of Shutdown: "Government employees, particularly those working for federal or state governments, saw more hiring at their workplaces in September than in August, while non-government employees witnessed a little less hiring," Lydia Saad wrote in the Gallup report. "Whether any of this reflects employers' preparation for vs. anxiety about a freeze on government activities due to the potential shutdown, or about the impending opening of the healthcare exchanges, is not clear."
ADP: Service Sector Leads Small September Jobs Gains: "The job market appears to have softened in recent months. Fiscal austerity has begun to take a toll on job creation," said Moody's Analytics chief economist Mark Zandi, whose firm helps compile payroll processor ADP's National Employment Report. However, "while job growth has slowed, there remains a general resilience in the market. Job creation continues to be consistent with a slowly declining unemployment rate," he said in the report.
Here's your cheat sheet to today's top stocks stories:
Microsoft (NASDAQ:MSFT) CEO Steve Ballmer — who has served as the company's chief executive since 2000 — surprised the world by announcing that he would retire within the next 12 months back in August. But Ballmer isn't the only one facing pressure from Microsoft shareholders. Investors, keen on shaking the dust out of the upper echelons of Microsoft's executive team, have reportedly put some pressure on co-Founder and Chairman Bill Gates.
BlackBerry (NASDAQ:BBRY) news is quickly going from bad to worse. We thought we saw the worst of it last week when BlackBerry released its second quarter earnings report, but as it turns out, BlackBerry was censoring some of its grim business analysis and instead saved that for its formal filing with the Securities and Exchange Commission that was published Tuesday.
Monsanto Co. (NYSE:MON) reported earnings today that came in below analyst estimates. Earnings came in at a loss of 47 cents per share versus a lose of 44 cents reported a year ago. Monsanto's revenue rose nearly 5 percent to $2.2 billion, but that was slightly below analyst expectations of $2.24 billion. Monsanto shares closed down nearly 2 percent.
Tesla (NASDAQ:TSLA) stock may be poised to take a tumble. That's what one Wall Street analyst is warning against, and although the stock downgrade is relatively harmless, it reflects a noticeable change from the confidence analysts have shown on an extended pattern of sharing. According to the Wall Street Journal, R.W. Baird's Ben Kallo downgraded his rating on Tesla from outperform to neutral on Wednesday morning, voicing concern about Tesla's short-term prospects.
Potbelly Corp. – a growing chain of sandwich shops — recently filed paperwork with the Securities and Exchange Commission that showed it was raising its public offering price from a range between $9 and $11 per share to a range between $12 and $13 per share. All told, the company is planning on selling about 7.5 million shares of common stock (about 7.35 million in the offering plus 146,442 from current stockholders.) The offering is expected top raise $75 million.
Twitter continues to march toward its highly anticipated initial public offering. Sources told Quartz that the social media platform could make its S-1 filing public as early as this week, a move that could prime the investment pump with critical data about the company's business model and financial condition. Adding fuel to the speculative fire is a report from Reuters that revealed that Goldman Sachs (NYSE:GS), the lead underwriter of the IPO, sent an email to to private shareholders asking that they commit to a six-month lockup.
Follow Jacqueline on Twitter @Jacqui_WSCS
Don't Miss: Surprise! BlackBerry's SEC Filings Aren't Pretty.