Blackstone Bids Dell Farewell and 3 Other Hot Stocks
Dell Inc. (NASDAQ:DELL): Big news if you've been following the Dell buyout debacle. It appears that Blackstone (NYSE:BX) has dropped out of its running for the company, and is pulling its bid that may very well have topped the offer made by the founder Michael Dell and Silver Lake Capital. Following a review of its books, Blackstone concluded that Dell's business is deteriorating faster than previously anticipated, and decided to pull its bid that could have exceeded  $14.25 per share. Blackstone's withdrawal now leaves Carl Icahn with the only bid rivaling Silver Lake's. Icahn has quoted a 58 percent stake in the company, for roughly $15 per share.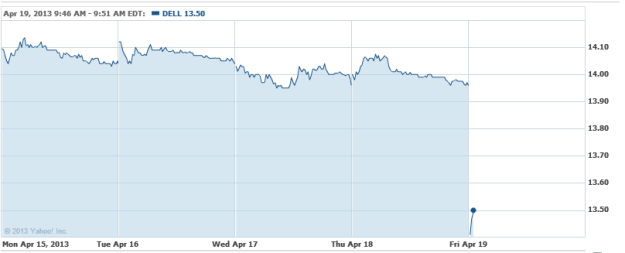 Honeywell Inc. (NYSE:HON): Honeywell has reported its first quarter results, and has stuck to the trend of strong earnings but lean revenue. Earnings came in at $1.21 per share, about $0.07 over analyst estimates. Revenue of $9.31 billion just missed by $140 million, as many product lines either lay flat for the company or decreased slightly. Aerospace fell 1 percent year-over-year, automation and control systems lay flat, performance materials and technologies actually grew by 6 percent, and transportation fell by 4 percent. The company raised its FY2013 guidance earnings from $4.80 to $4.95, and lowered its revenue to $38.8 billion -$39.3 billion from $39 billion-$39.5 billion.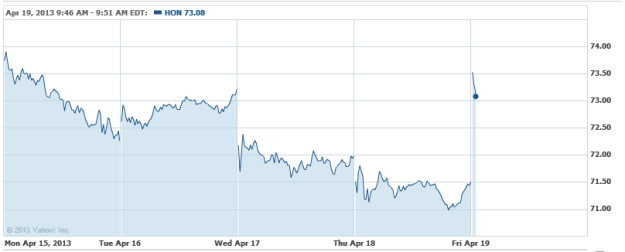 Vivus Inc. (NASDAQ:VVUS): Vivus shares spiked in pre-market, riding on an 8-K filing that indicated that Qsymia sales rose 29 percent in the month of March. By the calendar month, January had 16,733 sales, February came in with 18,417, and March had a health gain at 23,812. Qsymia is an FDA-approved weight-loss medication.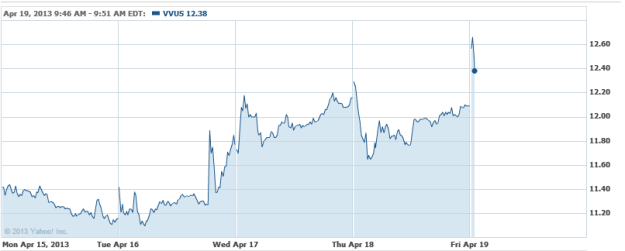 Microsoft (NASDAQ:MSFT): Microsoft's outgoing chief financial officer has confirmed that the company is working with OEM manufacturers on smaller Windows 8-based tablets, and that the new products are due for release in the coming months. The software giant has been jacking up efforts in its tablet sector, and has been rumored to be developing a 7-inch Windows 8-equipped tablet that will be cheaper than its existing Surface offerings.

Investing Insights: Will Mastercard See All-Time Highs?