BMC Software Earnings: Net Income Up Three Percent in One Year
S&P 500 (NYSE:SPY) component BMC Software, Inc. (NASDAQ:BMC) reported its results for the fourth quarter. BMC Software, Inc. is a software vendor offering an extensive portfolio of software solutions, including mainframe, distributed and virtualized systems, applications, databases and IT process management functions.
Don't Miss: Wall St. Cheat Sheet's newest Feature Trades of the Month!
BMC Software Earnings Cheat Sheet for the Fourth Quarter
Results: Net income for the application software company rose to $122.5 million (67 cents/share) vs. $118.8 million (64 cents/share) in the same quarter a year earlier. A rise of 3.1% from the year earlier quarter.
Revenue: Rose 14.4% to $562.2 million YoY.
Actual vs. Wall St. Expectations: BMC fell short of the mean analyst estimate of 77 cents/share. Estimates ranged from 75 cents per share to 80 cents per share.
Quoting Management: "Throughout fiscal 2011, we continued to demonstrate our ability to grow earnings while at the same time making the investments in internal development, acquired technologies, sales and services necessary to maintain and build our competitive advantage," said Steve Solcher, BMC's chief financial officer. "The investments we have made and continue to make, reflect our view that there are substantial market opportunities ahead and our desire to ensure we are properly positioned to capture them."
Key Stats:
Net income has increased 19.4% year over year on average across the last five quarters. The biggest gain came in the fourth quarter of the last fiscal year, when income climbed 42.6% from the year earlier quarter.
Competitors to Watch: Oracle Corporation (NASDAQ:ORCL), Microsoft Corporation (NASDAQ:MSFT), Red Hat, Inc. (NYSE:RHT), CA, Inc. (NASDAQ:CA), Novell, Inc. (NASDAQ:NOVL), Intl. Business Machines Corp. (NYSE:IBM), Quest Software, Inc. (NASDAQ:QSFT), Compuware Corporation (NASDAQ:CPWR), SAP AG (NYSE:SAP), and Hewlett-Packard Company (NYSE:HPQ)
Stock Performance: Shares of BMC are trading up 5% after hours.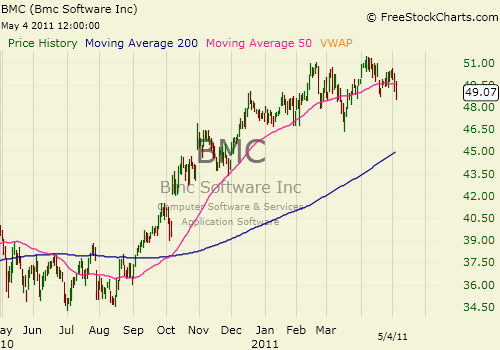 Don't Miss Wall St. Cheat Sheet's newest Feature Trades of the Month!