BMW's Optimism for Electric Cars Hits Wall of Skeptics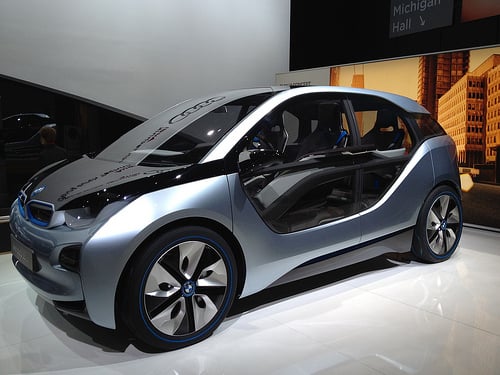 There is no shortage of skeptics when it comes to electric vehicles. Critics point to the high cost and limited range of a plug-in as two reasons the EV industry won't take off. On the latter count, at least one BMW representative believes that, given advances in battery technology, the current range of an electric car might double in the next five years. Some analysts consider that way too optimistic and expect a more gradual improvement of battery power in the coming years.
Ian Robertson, a BMW board member, told Neil Winton of The Detroit News that new lithium air battery technology will greatly expand the range of a plug-in car in the coming years, and that such an improvement would be followed by another, far more significant expansion of battery powers shortly thereafter. Robertson went so far as to say he expects the subsequent generation of batteries (about 10 years away from now) to "achieve 10 times that performance." He was referring to the doubling he sees as four to five years off.
Skeptics in the industry see good things for lithium air batteries, which would replace lithium ion batteries, but they don't think that increase will be as fast as BMW hopes or expects. One analyst sees that first improvement (the doubling of the current range) coming about 10 years from now, at the minimum. As BMW is about to release its 100 mile range capacity i3 in September, the slow but steady progress in the EV market continues.
The biggest U.S. automakers have notable plug-in models scheduled for release later this year as well. As GM (NYSE:GM) looks for ways to move its 2013 Chevy Volt, the company is matching BMW's and Tesla's (NASDAQ:TSLA) turn toward luxury electric models with the Cadillac ELR. Featuring the Volt powertrain and a heavy dose of Cadillac style, the ELR will be able to cover 35 miles on a full battery, which make it an emissions-free cruiser rather than a workhorse vehicle.
The 2014 Focus Electric by Ford (NYSE:F), on the other hand, is more of a road warrior's car with a capacity to travel 76 miles on a full charge. The BMW i3 will be able to get around 100 miles before necessitating a charge. In effect, the doubling of that performance would put the range near that of a Tesla.
But that moment may take some time to arrive. Analysts want to see improved power, faster charging, and long-term viability to believe in the EV industry. After all, if a car's battery pack becomes obsolete in five years, is that an improvement on the current auto industry model?
Don't Miss: Can a $200 Million Investment Help Toyota in America?