Boeing 787 Stumps Investigators and 4 Heavily Traded Shares Moving Now
Research In Motion Limited (NASDAQ:RIMM): Current price $13.05
Research In Motion says that on Monday, February 4th, its new ticker symbols will take effect as the company will begin trading as "BB" on the Toronto Stock Exchange and "BBRY" on the NASDAQ. However, the legal name of the firm is not changing and it will do business as BlackBerry until shareholders vote for the official change at its Annual General Meeting later in 2013.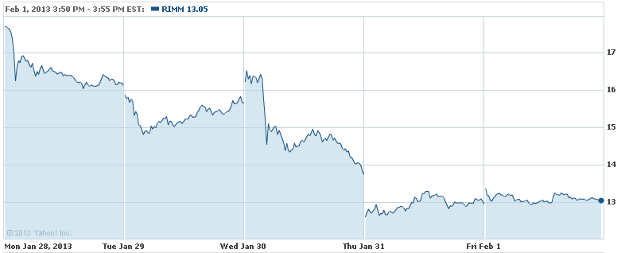 Want news like this in real-time so you can get an edge? Click here for Wall St. Cheat Sheet Pro.
The Boeing Company (NYSE:BA): Current price $74.27
The inquiry by United States authorities into battery incidents on Boeing's 787 Dreamliner could last for months, leaving the situation uncertain for the company's most advanced plane to return to business as usual. Investigators for the National Transportation Safety Board are examining microscopic battery remains along with production records and circuitry, while at the same time conducting tests to rule out other potential causes of overheating that caused the jetliner's grounding two weeks ago.

E. I. du Pont de Nemours and Company (NYSE:DD): Current price $47.98
DuPont's materials sector was the biggest loser among the S&P 500 industry groups Friday, as shares drooped by 0.4 percent.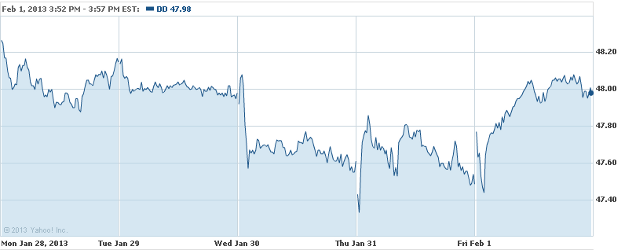 3M Company (NYSE:MMM): Current price $101.56
3M is highlighting the Many Uses of Post-its in $10 million campaign, spanning online ads, TV commercials, the Post-it note website, and social media platforms, and exhibiting creative uses of its iconic product.

The Travelers Companies (NYSE:TRV): Current price $79.94
Chairman and Chief Executive of Travelers, Jay Fishman, commented on CNBC's Squawk Box on Friday that, "We've embraced the notion that weather is different. I don't know why. I'm not a scientist. If you're not impressed with what the weather has been doing over the last few years, you're not keeping your eyes open." The remarks came as the company has been raising premiums for three years as weather patterns across the United States have become more severe.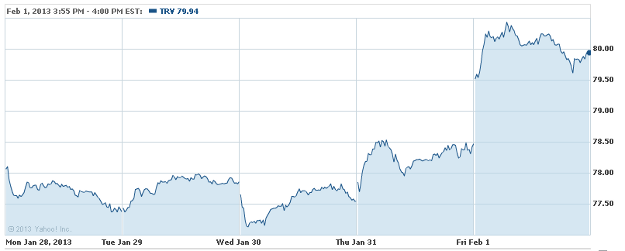 Don't Miss: Is Consumer Sentiment On the Rise?