Boeing Adds Another Dreamliner Glitch to Its Collection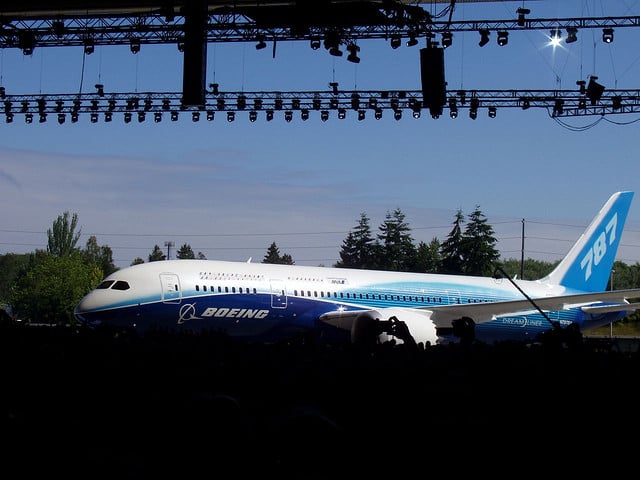 Boeing (NYSE:BA) revealed some encouraging Dreamliner news earlier in December when a top company executive told Reuters that the jet manufacturer was close to hitting its production target of building 10 of the energy-efficient 787 Dreamliner jets per month.
"It's the fastest we've ever gone on any airplane," said Jack Jones, vice president and general manager of Boeing's South Carolina operations. If Boeing is able to build 10 Dreamliner 787s this month, the company will be on track to deliver at least 60 plans this year, according to Jones, bringing the company closer to its goals of building 12 jets per month by mid-2016 and 14 per month by approximately 2019.
The same day the Reuters story was published, Europe's third-largest budget airline, Norwegian Air Shuttle (NWARF.PK), announced it was purchasing two more Dreamliners, noting the craft's technological advancements outweighed the technical problems plaguing the jet's operation.
Yet only days after the airline announced it had signed a deal with Boeing, one Dreamliner in the company's three-jet fleet experienced yet another problem. The newest of Norwegian Air Shuttle's Dreamliners was scheduled to fly from Fort Lauderdale to Stockholm on Saturday but was unable to do so.
One of the Dreamliner's key selling points, which has likely earned it much favor from airline executives, is that it consumes approximately 20 percent less fuel than other jets of the same size. Fuel is an enormous share of costs for airlines, and fuel costs have increased dramatically recently. Yet the string of technical problems has left an indelible mark on 2013 for Boeing, despite its strong quarterly results.
Even though the Dreamliner generated "zero or worse margins," Agency Partners' Nick Cunningham noted in an October 21 report, Boeing increased the operating margins of its commercial airplane unit to 11.6 percent from 9.5 percent in the year-ago quarter.
"When you're delivering this amount of aircraft from very mature programs such as 737 and 777, you're having tremendous efficiencies and cost absorption," Sterne Agee analyst Peter Arment told Bloomberg after Boeing's third-quarter earnings report was released in late October. "That's allowing them to deliver very strong margins."
Strong margins may please investors, but Boeing has had to fight to rebuild trust in the wide-body plane.
"Today, the reliability of the 787 is better than 95 percent. It's not as good as we'd like to see it. It's not as good as our customers would like to see it. So we're looking at ways to improve that reliability over time," Boeing Commercial Airplanes Marketing Vice President Randy Tinseth said during a late September press conference in the Chilean capital of Santiago. "I would refer to the problems as teething problems. I don't think they're systemic."
The list of problems that have plagued Boeing's technologically advanced Dreamliner 787 is long, but as with many other carriers that have experienced hiccups with the Dreamliner, Norwegian Air CEO Bjorn Kjos still expressed confidence in the company and the aircraft after those issues.
Kjos told The Wall Street Journal in an interview several months ago, "For us to succeed, it's absolutely vital to keep a cost focus, and that takes things such as new fuel-efficient aircraft."
Recent incidents have not caused the airline to change its plans to phase in more Dreamliners on its routes, as Norwegian Air Shuttle's communications manager, Charlotte Holmbergh Jacobsson, told the Journal. "We'll get a third one in November and hope it will function without problems," she said. "We have confidence in these aircraft, that's why we bought them."
Boeing has had a surprisingly good year so far, considering the issues it faced with the 787 Dreamliner and a few miscellaneous — though highly public — malfunctions with other aircraft. The company's new 787 family of jets has collected about 930 orders to date and more than 82 orders so far this year. With customers remaining optimistic, investors have continued to bid up shares of Boeing. The company's stock has gained 81 percent so far this year.
More from Wall St. Cheat Sheet:
Follow Meghan on Twitter @MFoley_WSCS