Boeing and Airbus Duke it Out for Sales at the Dubai Airshow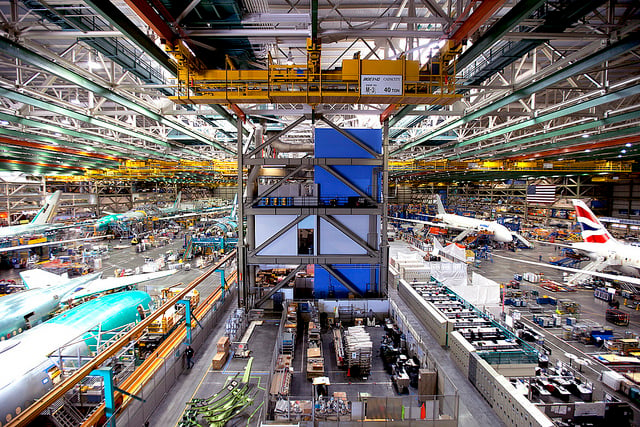 The Dubai Airshow brought huge sales for both Boeing Co. (NYSE:BA) and Airbus on Sunday, as had widely been expected in the weeks and months leading up to the event. But Boeing, which is debuting its new 777 at the event, has so far come out on top with commitments exceeding $100 billion.
The new version of Boeing's 777 long-haul jet, which was previously referred to under the 777X moniker, won 259 orders from four airlines, making it the largest combined order in the Boeing's history. Included in the deal are 150 orders for the aircraft from Dubai's Emirates, fifty from Qatar Airways, and twenty-five from Abu Dhabi's Etihad Airways. Additionally, budget carrier flydubai made an order for over 100 of Boeing's narrowbody jets
Boeing chairman James McNerney said, "The response to the 777X has been astounding." And Boeing explained that the new 777 sales have been "the largest product launch in commercial jetliner history by dollar value." The new 777 comes in two models: one which seats 350 passengers and one that seats 406 passengers. The aircraft is meant to compete with Airbus's A350 in the mini-jumbo jet market.
Boeing's rival, Airbus, was the recipient of a $27 billion order from Etihad Airways, whose purchase of Boeing's new 777 earlier in the day cost an estimated $25.2 billion. The Abu Dhabi-based carrier placed a firm order for eighty-seven Airbus aircraft with the purchase rights for an additional thirty. The firm order includes thirty Airbus A350 XWB, thirty-six A320neo, and one A330-200F freighter.
Etihad Airways has been one of the biggest purchasers at the Dubai Airshow as it seeks to expand its global position in the airline carrier market — this follows the strategy of other Gulf carriers Emirates and Qatar Airways, which have become the biggest buyers at the event.
Don't Miss: Benefits Cuts Were Too Harsh for Boeing Machinists.