Boeing Announces Turkish Airlines 777-300 ER Order and 2 Other Dow Movers to Watch
The Boeing Co. (NYSE: BA): Current price $107.04
On Monday, Boeing and Turkish Airlines reported an order for five 777-300 ER airplanes, valued at $1.6 billion at list prices. The Turkish flag-carrier has exercised its options on five 777-300 ERs, which were first announced in December 2012 as part of a prior firm order for 15 777-300 ERs. The carrier presently has 20 777-300 ERs on order from Boeing, while its fleet includes 12 777-300 ERs, the first of which Boeing delivered in October 2010.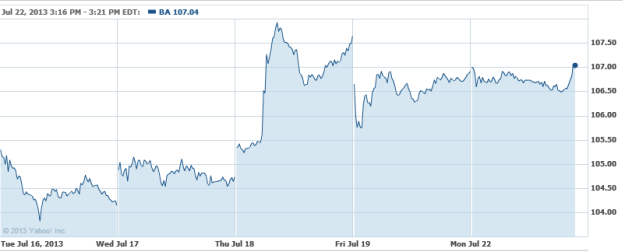 The Coca-Cola Co. (NYSE:KO): Current price $40.82
In a Monday statement, the Canadian Auto Workers Union said that workers at a bottling plant in Brampton, Ontario — operated by Coca-Cola Co. — concluded a three-week work stoppage following approval of a three-year contract. Output at the facility will resume Tuesday, after the deal was okayed by 83 percent of the employees. Through the terms of the contract, workers will receive pay rises in the second and third years, and also won an agreement that "would end demands to outsource existing work."

Hewlett-Packard Co. (NYSE:HPQ): Current price $25.48
Subsequent to a meeting with HP executives, Wells Fargo analysts think that investors' fears regarding PC data points are overdone. The firm notes that PCs comprise under 10 percent of HP's profits. Furthermore, Wells expects that the firm's operating earnings should rise in its fiscal 2014 year, and maintains an Outperform on the stock.