Boeing Awaits Balance of US Budget Sequestration Effects and 2 Other Dow Movers to Watch
The Boeing Co. (NYSE:BA): Current price $106.95
On Wednesday, Chief Executive Jim McNerney said that his company has not yet seen the bulk of the impact from the U.S. budget sequestration on its earnings. In a conference call following the release of second quarter earnings, the CEO remarked, "We are not out of the woods at all. We are entering the woods." Earlier today, Boeing upgraded its full-year revenue forecast, based on an anticipated $1 billion increase in defense revenue.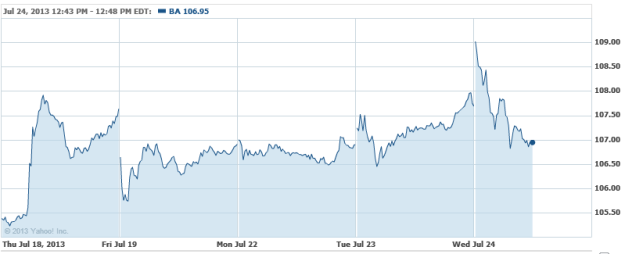 Merck & Co. (NYSE:MRK): Current price $47.53
Merck announced Wednesday that the new drug application for the firm's investigational anti-thrombotic medicine, vorapaxar, has been accepted for standard review by the FDA. Merck is seeking agency clearance of vorapaxar for the secondary prevention of cardiovascular events in patients having a history of heart attack, but no history of stroke or transient ischemic attack.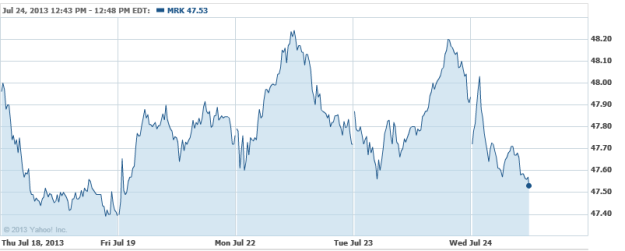 JPMorgan Chase & Co. (NYSE:JPM): Current price $56.61
JPMorgan said that presence in Europe and in the U.S. of the number three cement producer on the planet, HeidelbergCement AG, might protect it from emerging-market "headwinds." On Wednesday, shares of the German company jumped by as much as 4 percent to €55.43, marking the steepest intraday gain since May 7, and was trading up by 2 percent at 4:30 p.m. in Frankfurt, valuing the firm at $13.5 billion. The cement maker generated over half of its 2012 revenue from Western economies, with 30 percent coming from northwestern Europe, and 25 percent from North America.

Don't Miss: Boeing's Been a Smooth Ride for Investors Despite Dreamliner Drama.