Boeing Can't Wake Up from Dreamliner Nightmares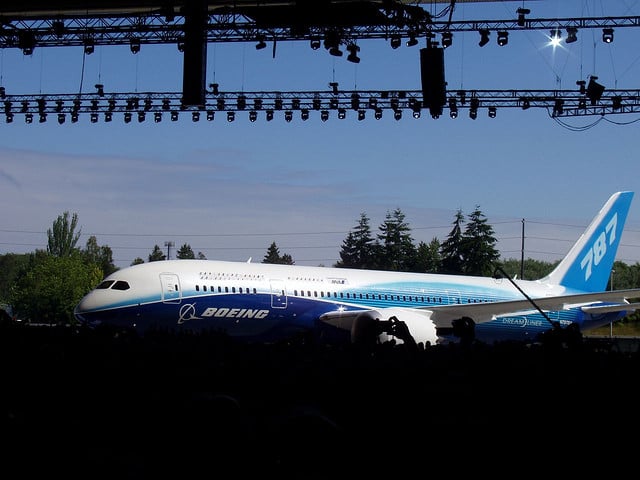 It isn't breaking news that Boeing's (NYSE:BA) highly anticipated Dreamliner 787s are having trouble staying in the air. The Chicago, Illinois-based company has been wracked with disappointment ever seen its technologically-advanced jetliners were grounded earlier this year, and now, five months since hitting the runway, Dreamliner problems continue to drag on as more and more airlines cite differing issues with the planes that force them to take the 787s out of operation.
Despite the rocky start, Boeing and its clients have maintained from the beginning that setbacks and delays are typical for new planes and the 787s will eventually find their grooves, but now some of Boeing's largest customers are wondering just how soon they can expect error-free planes, and as their problems mount, so too does their frustration.
According to Reuters, budget airline Norwegian Air Shuttle was forced to take a second Boeing Dreamliner out of operation Wednesday after it needed to take precautionary measures after grounding a first 787 earlier on account of repeated hydraulic and electric faults. The grounded jet is now expected to be back in service next week, along with the second checked Dreamliner to follow, but the setbacks still represent just two more cases of Norwegian Air needing to ground its plane unexpectedly.
When its first plane was taken out of operation September 28, Norwegian Air asked Boeing to make repairs after repeated faults in its first month of operation.
Boeing maintained throughout those checks that its planes had all the necessary improvements, but Norwegian Air's decision to take a second plane out of operation Wednesday to make more precautionary checks reflects its mounting distrust for the new planes. The problem for Norwegian is that it has already thrown its weight behind Boeing's 787 operations, so if issues continue, it may have no choice but to find another vendor.
The CEO of International Lease Finance Corp., one of Boeing's largest customers and a company that owns two jets and rents them to Norwegian for a fee, told Reuters recently, "It's got to improve: it can't keep doing what it has been doing and it has been very frustrating.  Norwegian have launched their wide-body operation on the back of the 787 order and it is very difficult for an airline to start a new product in a new market if the airplane is not as reliable as you would like."
Thus, now Boeing has more pressure than ever to meet expectations and perform flawlessly, and it was reminded that all too well again Monday when it learned that its main rival, Airbus, had clinched its first jet order from Japan Airlines, a market that Boeing has long enjoyed a domination over. According to Reuters, Airbus won a deal for 31 wide-body A350 jets with a combined $9.5 billion list price, and Boeing acknowledged that its loss of the order resulted from the troubled debut of its 787 Dreamliner.
Airbus and Boeing have been battling fiercely this year over rights to orders from JAL and Ana Holdings Inc. – as both need many new long-haul jets over the next decade –but while the American company has long enjoyed a fruitful partnership with JAL thanks to insider links, JAL's decision to give Airbus a chance illustrates the airlines' growing impatience with Boeing and its batch of 787 problems.
Boeing isn't shy about what this new order means for its business, as one managing director of Boeing Capital Corp. admits, "It's a heartbreak," but at least now the Illinois-based company has more motivation than ever to roll out well-executed planes that can resurrect confidence in the U.S. planemaker.
Don't Miss: Top 10 States Hurt by the Government Shutdown.