Boeing Could Be the Sole Candidate to Build the Next Air Force One and 2 Other Dow Movers to Watch
The Boeing Co. (NYSE:BA): Current price $109.77
Boeing might be the sole contender for a Pentagon contract to build the next Air Force One early next decade as the company reported that it is examining a United States Air Force request for information regarding the plane issued September 9, and is not prepared to announce a bid. Airbus SAS does not plan to make a proposal based on its double-decker A380 jet, leaving Boeing as the "only credible offerer" for the jet, according to the defense analyst Loren Thompson with the Lexington Institute. The Air Force requires a four-engine plane, and the A380 and Boeing's 747-8 are the only Western commercial models available.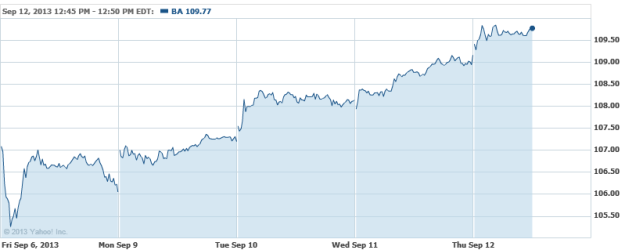 Bank of America Corp. (NYSE:BAC): Current price $14.53
Is the ease of mobile transactions reducing the need for branch banks? BofA's mobile user increases have come during an industry shift that is cutting the need for branches and ATMs, buoying mobile payment firms such as Xoom Corp. and Western Union. The Charlotte-based bank saw its mobile users jump by 28 percent to 13.2 million year-over-year in the second quarter, according to a presentation given Wednesday, in which it was revealed that mobile transactions are up 4 percent.
Bank of America has reduced its banking centers by 5 percent to 5,328 across the United States and direct-contact transactions have dropped by 12 percent. Nowadays, smartphone users at major banks may check their balance, switch money from their savings to their checking account, and schedule bill payments.

JPMorgan Chase & Co. (NYSE:JPM): Current price $52.45
Banks now must compete harder for customers, following a spike in borrowing costs from near-record lows that slowed refinancing by over 70 percent and cut into what had been record profits. JPMorgan is easing mortgage lending standards in housing markets that impacted by the crash, where prices are now surging, and reduced some down payment requirements in Nevada, Florida, Arizona and Michigan since they will "no longer be considered distressed states." The number-two domestic mortgage lender also loosened underwriting requirements for a refinancing program for Federal Housing Administration borrowers.

Don't Miss: 5 Stocks Catering to the Super Wealthy.