Boeing Deals With Skittish Passengers and 3 Dow Movers to Watch
The Boeing Company (NYSE:BA): Current price $84.98
Boeing is conducting tests of the batteries for of its 787 Dreamliners, but a greater challenge might be persuading passengers that the jetliner will be safe to fly when it gets back in the sky. Safety experts think that part of the company's evolving PR strategy has to do with playing down the severity of the burning lithium-ion battery incidents, says The Wall Street Journal.

Cisco Systems (NASDAQ:CSCO):  Current price $20.89
Shares are moving down Thursday after analyst Scott Thompson at FBR Capital downgraded the stock to Underperform from Market Perform in a note to investors earlier in the day, as he forecast that Cisco is likely to be impacted by reduced demand for routers and switches, while Ethernet networks and compute platforms replace some of those devices. The number of switching and routing ports at service providers should fall by more than 40 percent over the next 18 to 36 months, said Thompson. In the meanwhile, new networking technologies could significantly shrink demand for networking components offered by Cisco, so the analyst recommended that investors take profits in Cisco, as he lowered his price target from $22 to $17. At the same time, Thompson also downgraded Cisco competitor Juniper Networks (NYSE:JNPR) to Underperform from Market Perform, reducing his target on that stock from $18 to $15.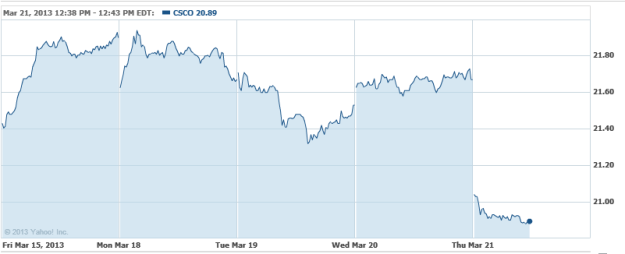 Chevron Corporation (NYSE:CVX):  Current price $120.86
An alliance between the energy firms Chevron, Royal Dutch Shell (NYSE:RDSA) and Consol Energy (NYSE:CNX) is creating the Center for Sustainable Shale Development, and groups including the Environmental Defense Fund and the Clean Air Task Force, intend to set performance standards for companies using hydraulic fracturing to extract oil and gas from shales, reported Financial Times.

General Electric Company (NYSE:GE):  Current price $23.46
In February, GE  sold $4 billion worth of NBCUniversal Enterprise bonds to investors that it acquired when it divested the film and television company last month, says The Wall Street Journal.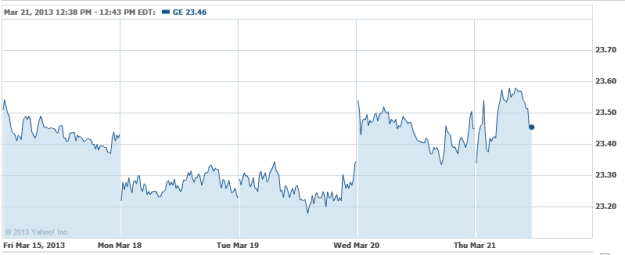 Don't Miss: GM's Recall Headache Won't Go Away.