Boeing Delivers 700th Plane to ILFC and 2 Other Dow Movers to Watch
The Boeing Company (NYSE:BA): Current price $102.98
A new 787 Dreamliner was delivered to International Lease Finance Corporation on Thursday, marking the 700th airplane delivered to the company. The event was the first 787 delivered to ILFC and its lessee, Norwegian, which will operate the plane. The delivery to ILFC reinforces Boeing's 40-year relationship with the  leasing company, and biggest 787 customer with 74 Dreamliners on order.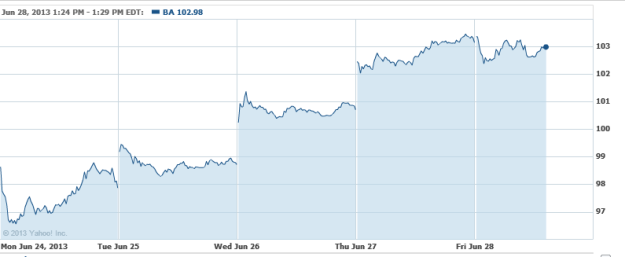 Alcoa (NYSE:AA): Current price $7.85
On Friday, Alcoa said that it will permanently shut its primary aluminum smelter in Italy at Fusina, where operations have been curtailed since June of 2010. The planned shutdown will reduce Alcoa's world smelting capacity of 4.2 million metric tons per year by 44,000 metric tons. The intended closure at Fusina is in addition to the 460,000 metric tons of operating smelting capacity that Alcoa had previously reported to be under review.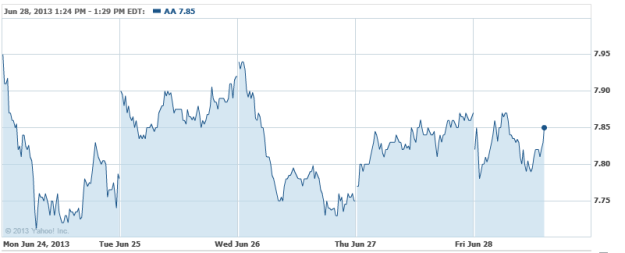 Chevron Corporation (NYSE:CVX): Current price $118.84
Chevron Products Company, a Chevron U.S.A. unit, and maker of the Delo brand of technologically advanced engine oils, lubricants and coolants, on Friday announced Edward H. Wolf & Sons as one of seven Grand Prize winners in its Great Outdoors Sales Contest. The contest honors strong sales of select Delo products during  the winter 2012/2013, ran from November 1, 2012 to January 30, 2013. Grand Prize winners win a John Deere RSX850i Gator, which is valued at $15,000. E.H. Wolf was founded in 1941 and is headquartered in Slinger, Wisconsin.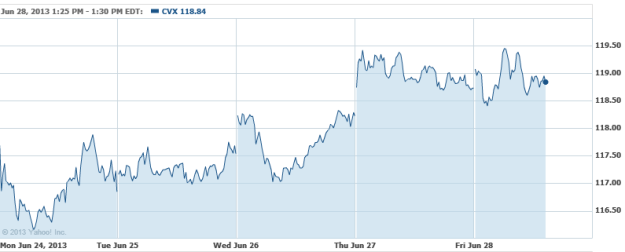 Don't Miss: GE Capital Increases Its Lend Spend.