Boeing Delivers to Mongolia and 2 Other Dow Movers to Watch
The Boeing Company (NYSE:BA): Current price $95.78
Boeing has delivered a 767-300ER (extended range) to MIAT Mongolian Airlines, marking the first ever direct purchase delivery to the airline. President and Chief Executive of MIAT Mongolian Airlines Jargalsaikhan Gungaa said that "this is a momentous step forward for MIAT Mongolian Airlines as we continue to enhance our fleet. We are pleased with the comfort, range, and payload of the new 767-300ER, and we look forward to introducing it into our long-haul fleet." Mongolia's  carrier finished a historic order in 2011 at the United States State Department in Washington, D.C., being the first time in over two decades that the airline extended its route network by buying Boeing airplanes rather than leasing them.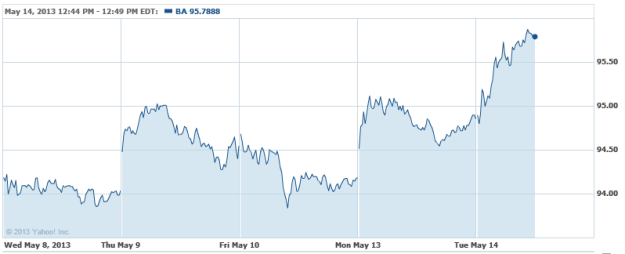 General Electric Company (NYSE:GE): Current price $22.95
The Chinese power equipment manufacturer XD Group is in discussions to purchase General Electric's joint venture with Mexico's Xignux, for as much as $1 billion, reported Bloomberg on Tuesday. GE owns 49.99 percent of the venture, named Prolec GE, which makes power transformer products. The talks are said to be at an early stage. In 2012, GE paid $535 million for a 15 percent interest in China XD Electric Co., which is that country's largest maker of transmission and distribution equipment.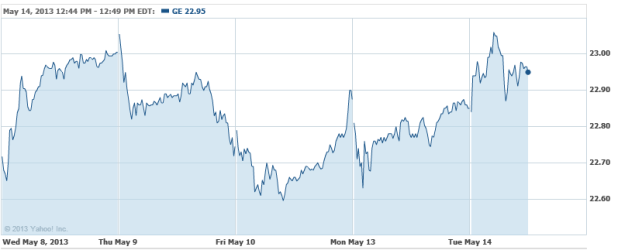 Johnson & Johnson (NYSE:JNJ): Current price $86.77
The J&J company Biosense Webster is announcing results from the SMART-AF IDE study on the safety and effectiveness of the Thermocool Smarttouch catheter 85.85 +0.09. the firm reported the 12-month safety and effectiveness results of the catheter and software module in the treatment of symptomatic, drug refractory, paroxysmal atrial fibrillation from the groundbreaking SMART-AF Investigational Device Exemption clinical trial. The 12-month study enrolled 172 subjects (72 percent male and 28 percent female) at 21 centers through out the United States. Thus far, the study attained its prospective safety and effectiveness endpoints with no unanticipated device-related adverse events, and 72 percent of subjects were free from AF recurrence at the close of the 12-month follow-up period.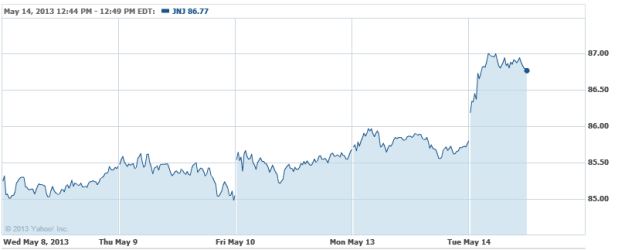 Don't Miss: Is This Obamacare Provision a Threat to Food Companies?