Boeing Dreamliner 787s Down, But Not Out (Of the Air)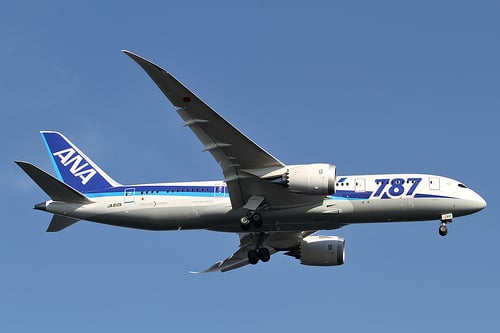 The Boeing Company (NYSE:BA) has had a turbulent couple of weeks, and while the airline manufacturer continues to come under fire for the 787 fire aboard an empty Ethiopian Airlines plane Friday at Heathrow airport in London, it still doesn't look like its fleet of 787s will face another long-term grounding just yet.
According to Bloomberg, up through June Boeing had delivered 66 Dreamliners to 11 airlines. The 787′s listing price comes out at $206.8 million in its cheapest version, but many airliners are now learning that this lofty cost is the least of their worries. Ever since May, when the fleet of 787s were given back their wings after a three month grounding, Boeing has made headlines almost weekly with the various technical difficulties that the planes have been experiencing.
The most serious news, however, came last week when an empty Dreamliner caught fire in London for an unidentified reason. Now, a safety investigation has been launched by the U.K. Air Accidents Investigation Branch, and the investigator is also receiving assistance from the European Aviation Safety Agency.
As of right now, sources report that Boeing's 787s aren't in immediate danger of a grounding, and high profile operators such as ANA Holdings Inc. and United Airlines, along with Thomson Airways, LOT Polish Airlines, and Air India Ltd continue to fly their Dreamliners. United, the world's largest carrier and a unit of United Continental Holdings (NYSE:UAL), owns six of the 787 aircrafts, and is an example of an airline company which has resolutely stood its ground on Boeing safety despite the company's many setbacks.
United's stance on Boeing security is shared by many other airlines. A spokesman from TUI Travel, the latest to be affected by Dreamliner drama when it was forced to turn back a plane Friday due to unspecified technical issues maintained, "We want to reassure our customers that we have every confidence in this aircraft and would never operate it if we weren't 100 percent sure of its safety."
Other than Boeing, U.S. safety specialists, and Ethiopian Airlines, so far the only outside company to be invited into the investigation is Honeywell International Inc. (NYSE:HON). Honeywell is the manufacturer of the emergency locator transmitter located in the upper rear part of the new airline that was near the site of the fire. These transmitters could be removed from future 787s as a precautionary measure, but the company has not yet been ordered to do so.
Many believe that the 787 fire, although unnerving, will not ultimately affect how the Dreamliner is produced. Michel Merluzeau, a consultant at G2 Solutions in Kirkland, Washington, explains that the fire will probably "turn out to be a serious event that fortunately has no significant impact on the continuing return to normality with the 787′s production."
Still, airlines continue to be vigilant about the probe's gradual discoveries. Airline authorities across the globe are especially eager to hear the outcome of the investigation as they await the much-anticipated arrival of their 787 orders.
Don't Miss: Boeing Investors Stay Strong in the Face of Fires, Leaks, and Accidents.