Boeing Earnings: Revenues are Going in the Wrong Direction
S&P 500 (NYSE:SPY) component The Boeing Company (NYSE:BA) reported net income above Wall Street's expectations for the first quarter. Boeing Company is an aerospace firm that designs, develops, manufactures, sells, and supports commercial jetliners, military aircraft, satellites, missile defense, and human space flight services.
Don't Miss: Wall St. Cheat Sheet's newest Feature Trades of the Month!
The Boeing Company Earnings Cheat Sheet for the First Quarter
Results: Net income for The Boeing Company rose to $586 million (78 cents/share) vs. $519 million (70 cents/share) in the same quarter a year earlier. A rise of 12.9% from the year earlier quarter.
Revenue: Fell 2% to $14.91 billion YoY.
Actual vs. Wall St. Expectations: BA beat the mean analyst estimate of 72 cents/share. Estimates ranged from 60 cents per share to 91 cents per share.
Quoting Management: "We're off to a good start in an important year for our company," said Jim McNerney, Boeing chairman, president and chief executive officer. "We delivered strong operating performance, made significant progress on 787 and 747-8 flight testing, and scored a major win on the U.S. Air Force Tanker program."
Competitors to Watch: Lockheed Martin Corp. (NYSE:LMT), Embraer SA (NYSE:ERJ), Raytheon Company (NYSE:RTN), Northrop Grumman Corp. (NYSE:NOC), General Electric (NYSE:GE), Honeywell Intl. Inc. (NYSE:HON), Spirit AeroSystems Hldgs., Inc. (NYSE:SPR), General Dynamics Corp. (NYSE:GD), Orbital Sciences Corp. (NYSE:ORB), Alliant Techsystems Inc. (NYSE:ATK), and Rockwell Collins, Inc. (NYSE:COL).
Today's Performance: Shares of BA are trading at $75.50 as of April 27, 2011 at 9:00 AM ET, down 0.07% from the previous close.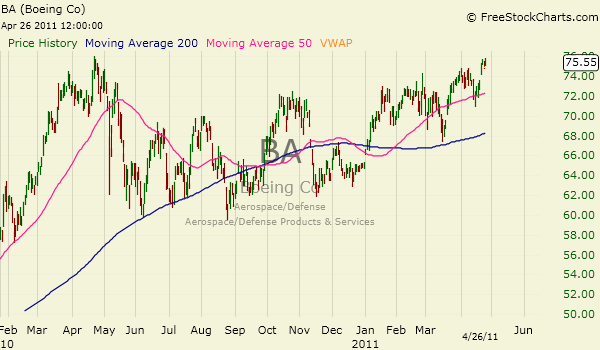 Don't Miss Wall St. Cheat Sheet's newest Feature Trades of the Month!