Boeing Engineers' Votes Expected Today and 2 Dow Movers to Follow
The Walt Disney Company (NYSE:DIS): Current price $55.74
BT (NYSE:BT) is reportedly in negotiations to purchase football rights from ESPN while the Disney-owned channel mulls a United Kingdom exit, according to the Financial Times. British Sky Broadcasting  is also said to be eyeing the assets.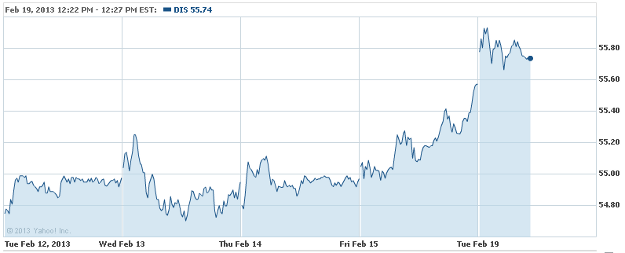 General Electric Company (NYSE:GE): Current price $23.70
GE Capital, Corporate Finance said that it is administrative agent on an incremental $200 million credit facility to Waupaca Foundry. The funds were used in support of a dividend recapitalization. GE Capital Markets was the lead arranger for the transaction and has been a lender to the firm since serving as administrative agent on a $485 million purchase financing announced in June 2012. Waupaca Foundry is one of the largest iron foundry companies in the world, producing gray and ductile iron castings for the automotive, agriculture, construction and commercial-vehicle markets.

The Boeing Company (NYSE:BA): Current price $74.38
Boeing  engineers should finish voting Tuesday amidst contract negotiations that are adding uncertainty for the firm as it deals with the grounding of its flagship 787 jetliner. However, the Wall Street Journal reports that a strike authorization would not result in an immediate work stoppage.

Investing Insights: Is General Electric Stock Growling for a Strong Buy?