Boeing Gains From Rising Orders and 4 Stocks At 52-Week Highs
The Boeing Company (NYSE:BA): Closing price $86.62
Boeing and a number of other aviation stocks moved up after the government said that orders for commercial aircraft jumped in February. Orders for commercial aircraft were up 95.3 percent in February versus January, according to the Associated Press. The large jump in the volatile aircraft orders came following their dive by 24 percent in January from December. Boeing's stock has rallied 14 percent in the last month. Shares closed up 2.09 percent on Tuesday at $86.62, and have been traded in a 52-week range of $66.82 to $86.49.

Bristol-Myers Squibb Company (NYSE:BMY): Closing price $40.68
More than one United States Supreme Court justice appeared skeptical regarding the practice of brand name pharmaceutical firms paying generic companies to keep their cheaper drugs from the market for a longer time, says The New York Times, adding that a few of the justices seemed interested in issuing a narrow ruling that would not create a precedent. Shares closed up 1.04 percent on the day at $40.68, having been traded in a 52-week range of $30.64 to $40.48.

Bristow Group (NYSE:BRS): Closing price $66.99
Bristow Group said that the United Kingdom's Department for Transport has awarded its U.K. affiliate Bristow Helicopters a new contract through which to supply civilian Search and Rescue services for all of the U.K. The SAR services contract has a phased-in transition period starting in April 2015 and continuing to July 2017, and a contract length of roughly ten years. Under the terms, Bristow Helicopters will provide 11 Sikorsky S-92 and 11 AgustaWestland AW189 helicopters  at ten bases across the country. The contract should bring around $2.5 billion in revenue. Shares closed up 3.06 percent Tuesday at $66.99, and have been traded in a 52-week range of $37.92 to $65.26.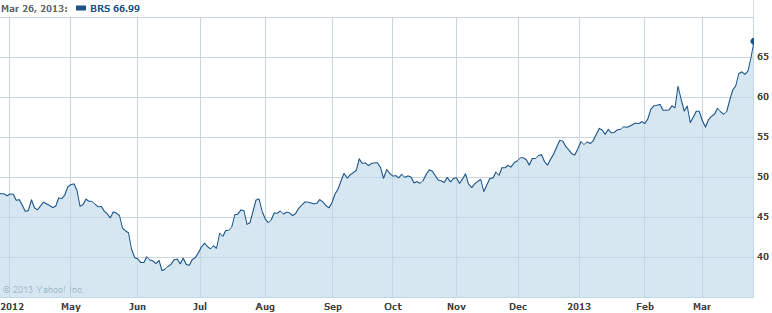 Comcast Corporation (NASDAQ:CMCSA): Closing price $41.47
Although Hulu is not officially on the block, its corporate owners, which include The Walt Disney Company (NYSE:DIS), News Corp (NASDAQ:NWSA) and Comcast Corporation (NASDAQ:CMCSA), are being contacted by would-be buyers, says AllThingsD, which also reported that one potential purchaser is Ross Levinsohn, who tried to acquire Hulu when he ran Yahoo in 2011. Sources say Yahoo! (NASDAQ:YHOO) and Amazon.com (NASDAQ:AMZN) have also "kicked tires," but so far no prospective buyer has made anything like a formal offer. Shares closed down 0.6 percent on the day at $41.47, having been traded in a 52-week range of $28.09 to $42.00.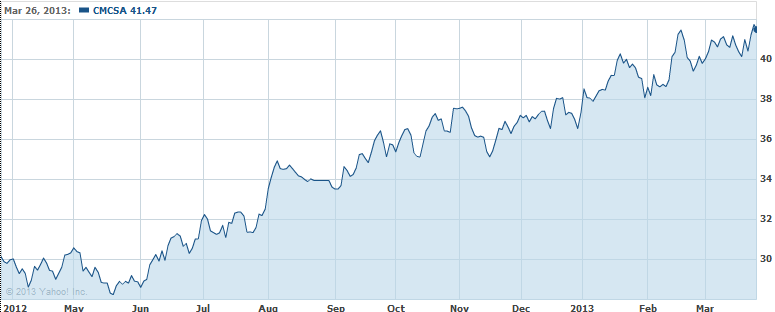 Dr Pepper Snapple Group (NYSE:DPS): Closing price $46.70
Beverage Digest reported that aggregate domestic sales of carbonated soft drinks slid by 1.2 percent by volume in 2012 to 9.17 billion cases, versus a decline of 1 percent year-over-year. The report also noted that if rapidly-growing energy drinks were excluded, 2012 soda volume would have dropped by 1.7 percent, said Reuters. The industry newsletter calculated that Coca-Cola and Dr Pepper Snapple Group (NYSE:DPS) each gained 0.1 percent of market share, while PepsiCo (NYSE:PEP) lost 0.4 percent in share. Shares closed up 0.73 percent on the day at $46.70, and have been traded in a 52-week range of $38.25 to $46.60.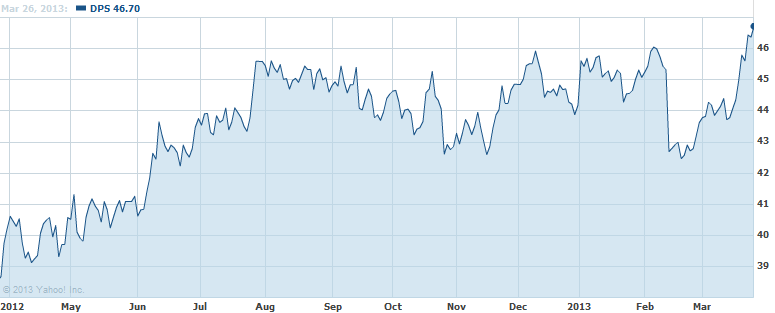 Don't Miss: Ford's Headache is a Boon for Japanese Automakers.