Boeing Gets Order Go-Ahead from Turkish Air, Time Warner's Executive Shuffles, and 3 More Hot Stocks
Boeing Co. (NYSE:BA): Turkish Airlines is finalizing an order for five Boeing 777-300ER aircraft, turning its warrant into a firm order for the planes. This will put Turkish Airlines's tab with the company at 20 of those planes on order. Separately, the Federal Aviation Administration has decided to follow the recommendation of British officials and has initiated an inspection of the emergency locator transmitters on the 787 Dreamliner aircraft after a recent fire on an Ethiopian Airlines plane.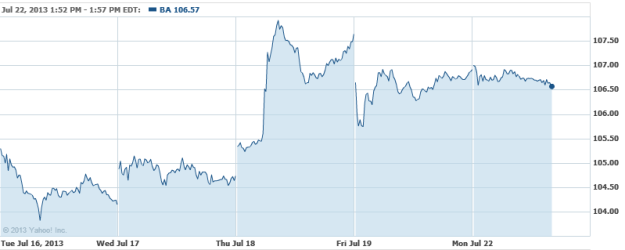 Time Warner Inc. (NYSE:TWX): Time Warner has named Time Inc. Chief Financial Officer Howard Averill as its next CFO, effective January 1 to replace John Martin, who will become Turner Broadcasting's CEO at that time. The company also named Joseph Ripp, who has served as CFO and AOL's vice chairman in the past, as the next CEO of the publishing spin-off Time Inc. Ripp will be filling the shoes of Laura Lang in September, and is currently working as the CEO of business information provider OneSource.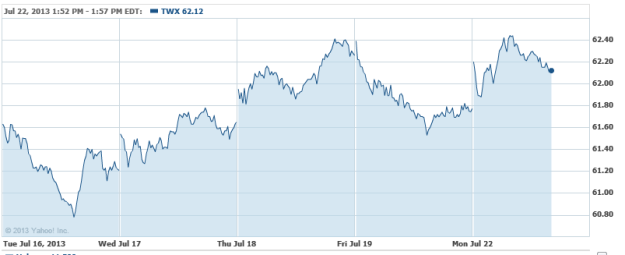 Dreamworks Animation (NASDAQ:DWA): Shares have tanked in the wake of a disappointing weekend at the box office for Turbo, which pulled in just $21.5 million during its opening week on a budget of $135 million. While Cowen thinks a write-down for the animated racing film could lower its 2013 earnings per share estimate for DreamWorks, Janney Capital says "any near term weakness could provide a long term buying opportunity."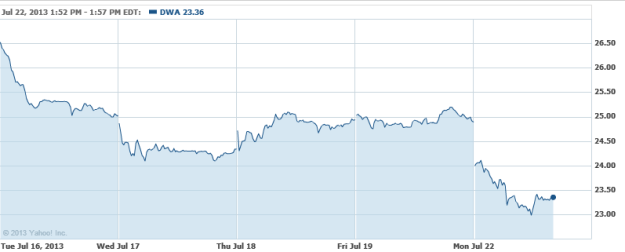 Wells Fargo & Co. (NYSE:WFC): Wells shares are up ever so slightly after Warren Buffet said that he would be interested in building a position in the bank at around $56 per share. At the current share price of near $44, the stock can be good for a 12.8 percent pretax yield.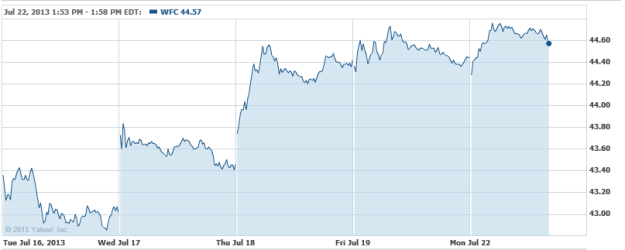 Allied Nevada Gold Corp. (AMEX:ANV): Allied shares are rising over 3.6 percent in Monday trading as the company said its Hycroft mine produced 77,200 ounces of gold and 320,000 ounces of silver in the first half of the year, though metals not being released from the Lewis leach pad caused production to miss guidance figures. All said and done, the company expects full-year production and sales to yield 175,000 to 200,000 ounces of gold, and 900,000 to 1.1 million ounces of silver.