Boeing In Line For Jet Airways (India) Order and 2 Other Dow Movers to Watch
The Boeing Company (NYSE:BA): Current price $100.33
Jet Airways (India) is mulling an order for Boeing Co. 737 planes, according to Vice President, Commercial Strategy, K.G. Vishwanath, in a conference call Monday. However, the number of aircraft or a timeframe were not discussed. The carrier intends to order more aircraft to expand its fleet as it gets ready to push back rivals that are trying to commence operations in India this year. Vishwanath said that Jet Airways will boost domestic seat capacity by up to 8 percent per year, as it takes delivery of 46 aircraft ordered from Boeing earlier, over three years. The Indian government says that the number of airline passengers there may triple to 180 million by 2021, as more people are now favoring air travel to trains.

General Electric Company (NYSE:GE): Current price $23.61
GE is investing billions of dollars in the new boom of oil and gas drilling called fracking. The company is opening a new laboratory in Oklahoma, snapping up related firms, and gambling that cutting-edge science will enhance profits for clients, alongside lowering the environmental and health effects of the boom. Senior Vice President Mark Little said, "We like the oil and gas base because we see the need for resources for a long time to come."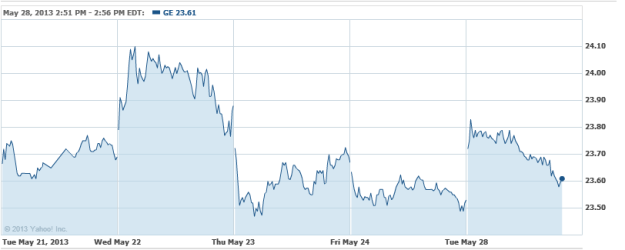 Chevron Corporation (NYSE:CVX): Current price $126.22
Chevron will lend $2 billion to a joint venture with Venezuela's PVDSA state oil company in order to boost output in an oil field in western Zulia state. Venezuelan Oil Minister Rafael Ramirez signed the loan arrangement on Monday with Chevron's chief  in Latin America Ali Moshiri. PVDSA oil company presently owns 60 percent of the joint venture, Petroboscan, while Chevron holds a 40-percent interest. Ramirez says that financing will help spur production in the Boscan field from 107,000 barrels a day to 127,000.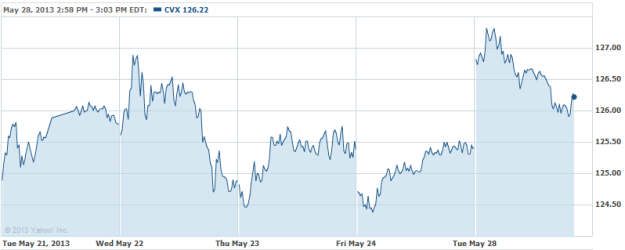 Don't Miss: Consumer Confidence Hits Highest Level Since February 2008.