Boeing Looks to Jumbo Jet-Heavy Emirates as a Potential 747 Customer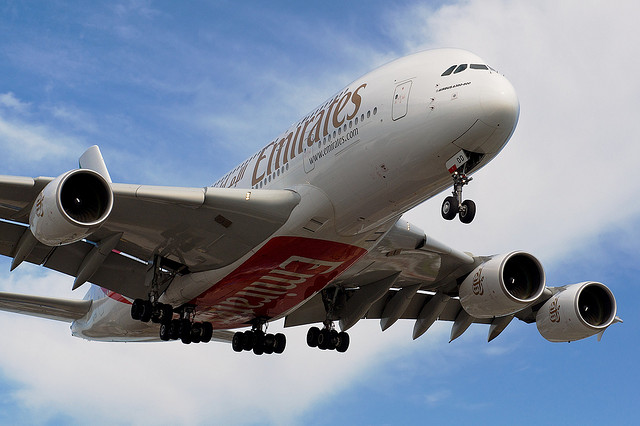 Dubai-based airline Emirates recently flaunted its new Airbus A380 superjumbo jet (seen above) at the 2014 ILA Berlin Air Show at the end of last month. Emirates, which is waiting on delivery of 90 of the enormous planes, is reportedly in discussions with Boeing (NYSE:BA) regarding its 747-8, a particularly slow seller in Boeing's portfolio.
That, of course, is relative; the market for such gigantic planes is limited as it is, but the 747 has been crawling at a notably slow pace relative to its Airbus rival. Emirates, which is reportedly looking for better fuel burn on the larger members of its fleet, could be a saving grace and a big opportunity for Boeing which has cut its production of the jet due to the slow uptake. Emirates is both the biggest client of Airbus' A380 and Boeing's 777.
"The new engines they're pressing Airbus to put on their plane, we've already got four of them," John Wojick, Boeing's senior vice president for sales and marketing, said at an interview with Bloomberg in Doha, Qatar. "We think we have a good solution."
Currently, Germany's Lufthansa is the only airline operating a Boeing 747-8, Bloomberg said. Lufthansa is one of just four customers who have signed up for the passenger variant of the jet. "We're talking to anybody who has the size and capacity requirement, and obviously Tim is someone" who fits into that category Wojick said, referring to Emirates president Tim Clark. "We'd love to be able to get the airplane into Emirates."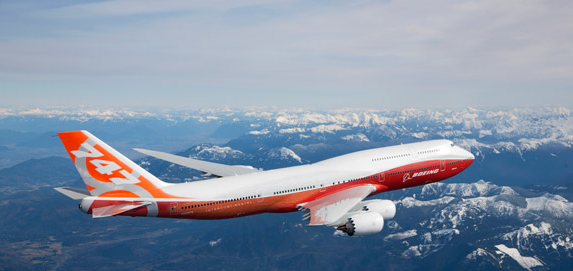 Clark, however, is apparently focused on a big order for Boeing's 777X. Emirates Chief Commercial Officer Thierry Antinori  said last month that although there are 90 superjumbos still to be delivered, Emirates would be prepared to buy additional planes should Airbus commit to adding new engines, Bloomberg said. Airbus acknowledged to the site that Antinori has discussed a re-engined A380, but said negotiations for such a plane are not on the table as of yet.
Air China is scheduled to receive its first 747-8 this year, and Korean Air Lines will get its first next year, Bloomberg added. Boeing produces 18 of the planes per year, and sold 17 last year, though the manufacturer hopes to maintain the production rate moving forward. In order to do so, however, it will have to make its case to airlines like Emirates to get a handle on loyal A380 customers.
The 777, however, has proven to be a robust seller for the company. Boeing sold 40 current generation 777 jets last year (that excludes the 777X) and has booked deals for 438 since 2007; the bookings of widebody planes have been slower than expected so far this year, though the pace is likely to pick up, Wojick added. 
Large planes were once an ideal go-to for busy airline routes, but as gas prices continued to soar, airlines quickly looked for ways to reduce the size of the planes and increase fuel efficiency across their fleets. In order for large superjumbos to be worth the investment, they must be able to reliably fill each flight to a certain degree. Given the new improvements to planes like the 777 and the Airbus A350, the larger jets are becoming a tougher sell for airlines who aren't convinced that they'll need such a large jet.
More From Wall St. Cheat Sheet: