Boeing Loses Lead and 2 Dow Movers To Follow Today
The Boeing Company (NYSE:BA): Current Price $85.34
Information from both companies indicates that Airbus retook the aircraft industry's number-one spot in the first quarter, as its rival Boeing fell behind on orders and dealt with the grounding of its newest jet, the 787 Dreamliner, according to Reuters. Momentum had tilted in the American company's favor for the first time in several years last year, as Boeing sold more revamped 737s and speeded up deliveries of the Dreamliner, giving it mastery of the $100 billion annual jet industry. But in 2013, the preponderance of power shifted again as Europe's Airbus won a record Indonesian order in March and Boeing delivered only one 787 before the jet was grounded by fears regarding the safety of its lithium-ion batteries.

United Technologies Corporation (NYSE:UTX): Current Price $92.09
On Friday, Bernstein Research raised its price target on the tech product provider. The firm currently has a Market Perform rating on UTX, and it raised its price target on the shares to $98. This figure implies a 6-percent upside from the current price of around $91.75; the target was elevated due to raised estimates on the stock based on its improving performance.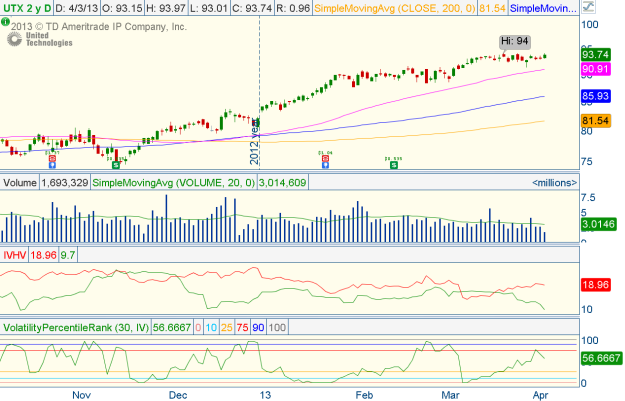 Microsoft Corporation (NASDAQ:MSFT): Current Price $28.40
Gartner predicts that PCs will lose consumer market share during the next five years, while they are weakened by a skyrocketing tablet field that might add six new devices for every laptop or desktop the PC industry loses. Beyond that, the research firm expects over 270 million units to be shipped in 2013, marking a steep 20.4-percent decline from last year's disappointing 341 million. These projections could herald a major realignment to the tech world's hierarchy, with Microsoft particularly on track to lose ground.

Investing Insights: Are All-Time High Prices Supported By Procter & Gamble?