Boeing Offer Rejected By Union, Cisco Shares Plummet: Market Recap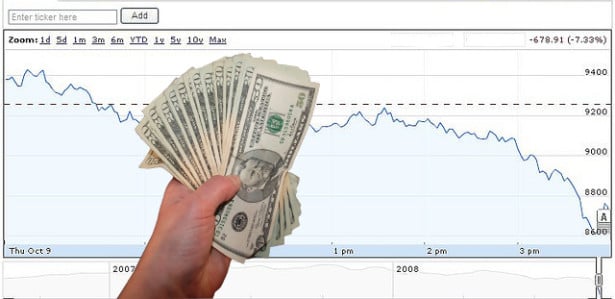 U.S. stocks rose during trading on Thursday with the S&P 500 hitting a record to close. Janet Yellen's remarks before the Senate Banking Committee indicated that she will continue with the Federal Reserve's stimulus efforts when she succeeds Ben Bernanke as chair drove the market up. Yellen said that it's important not to withdraw stimulus until the economy has improved enough to withstand tapering.

Gold: +1.45% to $1,286.80 per ounce Oil: -0.07% to $93.81 per barrel U.S. 10-Year: -0.84 to 2.702%
Jobless Claims: Trending Down, but Not as Much as Hoped: Initial applications for unemployment benefits fell for the fifth consecutive week, but more Americans still filed jobless claims last week than economists expected. Data from the Department of Labor's Bureau of Labor Statistics showed that in the week ended November 9, jobless claims dropped by 2,000 to 339,000 from the previous week's upwardly revised 341,000. Comparatively, economists had forecast claims to drop as low as 330,000.
3 Key Takeaways from Janet Yellen's Confirmation Hearing: Federal Reserve Chair nominee Janet Yellen sat before the Senate Banking Committee on Thursday morning. The session, which Yellen kicked off with a short testimony, covered a lot of ground. Committee members generally asked direct but mild questions about the Fed, its monetary strategy, and how Yellen intends to posture herself following her (technically tentative but widely presumed to be in the bag) confirmation.

Labor Productivity Edges Higher While Costs Fall: Non-farm business sector labor activity increased at a seasonally-adjusted annual rate of 1.9 percent in the third quarter, according to preliminary estimates from the U.S. Bureau of Labor Statistics released on Thursday. This is the function of a 3.7 percent increase in output and a 1.7 percent increase in hours worked on a quarter-over-quarter basis. On the year, labor productivity was flat, with a 1.8 percent increase in output matched by a 1.8 percent increase in hours worked.
Here's your cheat sheet to today's top stocks stories:
Boeing Co.'s (NYSE:BA) 777X will probably not be built in the Seattle area, the company's traditional manufacturing base. On Wednesday, a strong majority of Boeing machinists rejected an eight-year labor contract extension, a decision that could ultimately impact Boeing's 97-year presence in Washington state.

Cisco Systems Inc. (NASDAQ: CSCO) shares closed down 10.96 percent on Thursday after the company forecast an 8 to 10 percent decrease in revenue for the quarter. Cisco released first-quarter 2014 results Wednesday, showing a 5.1 percent year-over-year decline in earnings per share, or 37 cents compared to 39 in first-quarter 2013. Cisco's net income was $2 billion for the quarter, at the same point last year, it was $2.1 billion.
Wal-Mart Stores (NYSE:WMT) stock closed Wednesday's regular session up a fraction at $78.90, but shares fell as much as 2 percent in early trading Thursday, only to rebound and close up 0.23 percent after Wal-Mart reported underwhelming third-quarter results. Consolidated net sales increased 1.6 percent on the year in the three months ended October 31 to $114.876 billion, missing the mean analyst estimate of $116.84 billion. Wal-Mart's earnings did beat expectations, though, climbing 6.5 percent on the year to $1.14 per diluted share, edging out the mean analyst estimate of $1.13 per share.
Kohl's Corp.'s (NYSE:KSS) third-quarter results did not provide the company with pre-holiday cheer. Kohl's results, published Thursday morning before the market opened, show Kohl's diluted earnings per share declined 11 percent year-over-year, from 91 cents in 2012 to 81 cents in 2013. Net income for the quarter was $177 million, an 18 percent decrease from the third-quarter in 2012. Sales experienced a 1 percent drop, coming in at $4.44 million.
Viacom Inc. (NASDAQ:VIA) (NYSE:VIAB) — the media company controlled by billionaire Sumner Redstone — depends on its television business for more than 90 percent of its annual operating income, so the 10 percent increase in domestic and worldwide advertising revenue and the 6 percent rise in licensing fees paid by the cable channels that broadcast its shows boosted fourth-quarter earnings. Viacom reported fiscal fourth-quarter earnings before the opening bell on Thursday that beat analyst expectations.
Lockheed Martin Corp. (NYSE:LMT) announced a job cut of 4,000 employees is coming, as well as the cessation of a number of company operations. According to Bloomberg, this is in the wake of a rather decent third-quarter earnings report, with profit rising 16 percent from the last. Out of five business segments, four will be removed, leaving its high earning Aeronautics program intact. Lockheed's Aeronautics produces 30 percent of its sales and contains the Pentagon's highest priced weapons program.
Follow Jacqueline on Twitter @Jacqui_WSCS
Don't Miss: Christie, Clinton, and the 2016 Crystal Ball.