Boeing Orders Continue to Pour In, Statoil 'Isn't Wedded' to 2020 Goal, and 3 More Hot Stocks
Boeing Co. (NYSE:BA): On the heels of reports that Boeing has secured several large deals for the new 777X aircraft, Bloomberg is reporting that the company is on the verge of potentially landing $87 billion in agreements for 255 planes. Emirates Airlines could purchase 100-150 aircraft, and Etihad, 30 aircraft, as formerly reported. Cathay Pacific is looking to pick up 25, and Qatar may put down for 50 units, as well, although the airline's CEO saying he isn't interested in Boeing's 777X — at least, not yet.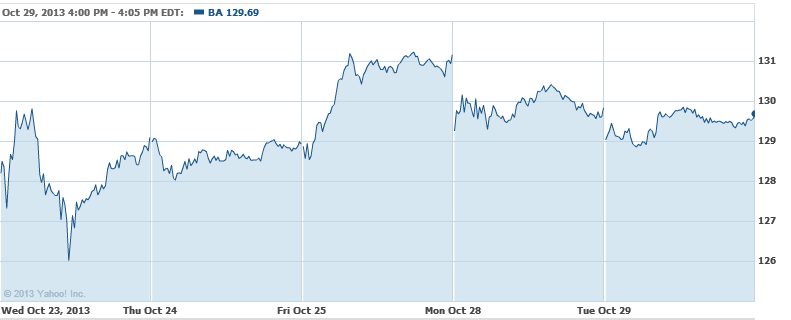 Statoil ASA (NYSE:STO): Statoil CEO Helge Lund says that the company is "isn't wedded" to its 2020 production target of 2.5 million barrels per day, given that a recent string of asset sales would reduce output next year but also unlock more cash for investment. Statoil is "not married to a volume target, but always married to value creation," Lund told The Wall Street Journal. He added that despite a significant rise in oil prices in the past decade, the global oil sector is struggling to be profitable due to higher costs and a lower return on investments.

Honda Motor Co. (NYSE:HMC): Honda has reported earnings per share of 68 cents, beating the 46 cents that it brought in last year, with revenues of $29.56 billion against the $29.49 billion from last year. The company is projecting that net income for fiscal year 2014 will rise 58 percent, as operating income should see a 43.2 percent bump.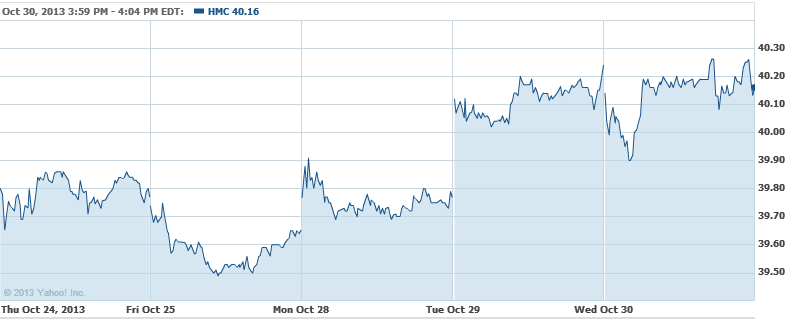 Barclays PLC (NYSE:BCS): Barclays reported a pretax profit that, despite falling 26 percent, beat forecasts calling for 1.25 billion pounds. Net profit is back in the green at 511 million pounds, up from a loss of 183 million pounds last year. A sharp decline in earnings from fixed-income trading put a sizable dent in investment profits; Barclays put down 101 million pounds on its restructuring program during the period.
Potbelly Corp. (NASDAQ:PBPB): After Goldman's initiation of coverage at Neutral with a $32 price target and Jefferies' assignment of Overweight with a $34 target, Polar Capital analyst Brad Ginesin points out that the rich valuations of Buffalo Wild Wings and Panera Bread "look downright cheap" when compared to Potbelly, Seeking Alpha says, adding that Potbelly trades with a four-digit P/E ratio and has "survived the first round of analyst initiations without any stinging Sell ratings."