Boeing Pitches New 777 Passenger Jet and 2 Other Dow Movers To Watch
The Boeing Company (NYSE:BA): Current price $92.20
Boeing's sales force is beginning to sell airlines and jet leasing firms on the updated, bigger version of its 777 passenger jet, marking a crucial step towards gaining approval from Boeing's board to construct the plane, according to company officials on Wednesday. The company will add lightweight carbon-composite wings and new engines to the popular model, so as to take advantage of technologies that it created for its 787 Dreamliner, and also to reduce fuel burn by perhaps 20 percent. The board has okayed the move to offer customers details regarding the capabilities and pricing of the plane, which implies that the long-awaited redesign is closer to fruition.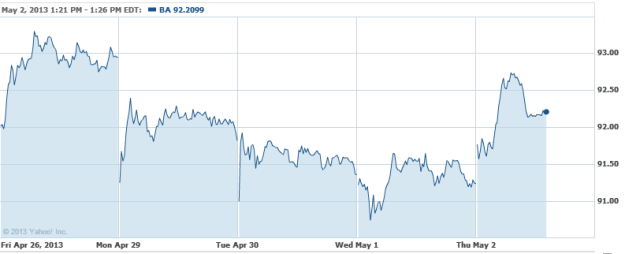 The Coca-Cola Company (NYSE:KO): Current price $41.95
Southwest Airlines (NYSE:LUV) has announced the addition of Vitaminwater as a new premium drink option onboard its planes. Customers may now choose to purchase Vitaminwater for $3 on all of the carrier's flights, and to commemorate the new partnership, Southwest has launched a sweepstakes to give away one year's worth of Vitaminwater and also travel on Southwest Airlines.  The carrier is commencing the year-long trial of vitaminwater by offering the popular flavors Vitaminwater xxx (acai-blueberry-pomegranate) and Vitaminwater squeezed (lemonade).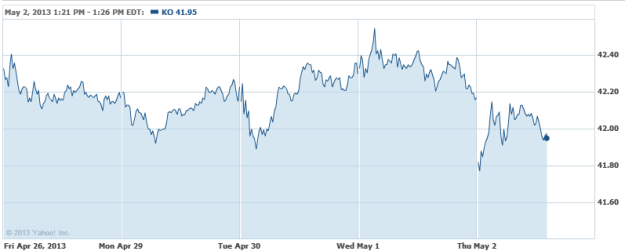 Wal-Mart Stores (NYSE:WMT): Current price $78.35
The retailing giant is gambling that online sales will ignite a new series of significant growth as it more directly competes against Amazon (NASDAQ:AMZN) and Google (NASDAQ:GOOG). President and Chief Executive Neil Ashe of Walmart's world e-commerce division commented that "e-commerce is the next growth engine for Walmart, We view this as an opportunity for us to grow pretty dramatically." Highlighting his company's plans to boost its digital sales, Ashe spoke at Barclays' Retail and Consumer Discretionary Conference in New York.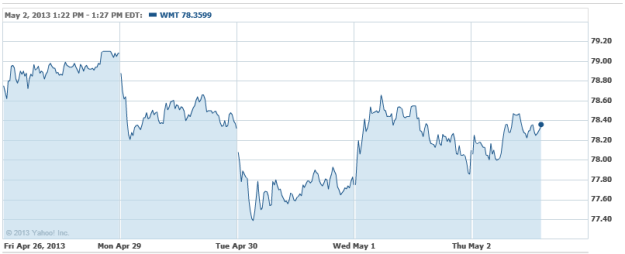 Don't Miss: Chart of the Day: These 5 American Giants Lead the Way.