Boeing Preps for Shutdown-Prompted Delivery Delays and 2 Other Dow Movers to Watch
The Boeing Co. (NYSE:BA): Current price $115.70
Boeing is readying for potential delays in jetliner deliveries, including its new 787 Dreamliner, which could be caused by the federal government shutdown that has idled thousands of United States aviation officials who are required to certify the planes. Boeing said that the delays, if they begin, would likely impact the company's newest models, like the 787, and could also affect development of other new models such as the stretched 787-9 derivative. Older models such as the 737, which do not need significant engineering as part of the production, are less likely to be involved.

Chevron Corp. (NYSE:CVX): Current price $118.83
Chevron has reached binding long-term sales and purchase arrangements with Tohoku Electric Power Company of Miyagi, Japan, for liquefied natural gas from its Wheatstone liquefied natural gas project in Western Australia. The $29-billion project was sanctioned back in September of 2011.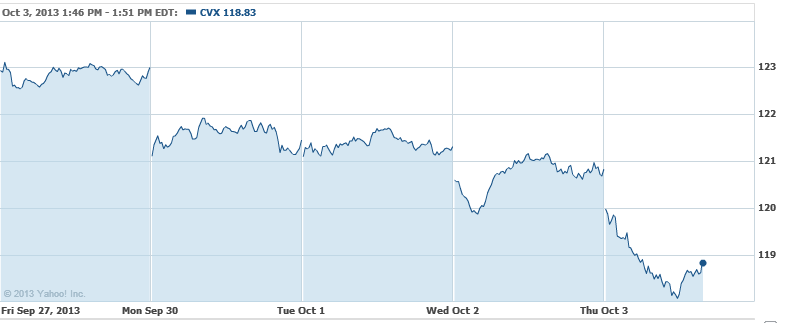 JPMorgan Chase & Co. (NYSE:JPM): Current price $52.02
According to a judicial source, prosecutors in Italy have requested that JP Morgan Chase & Co stand trial for allegedly obstructing regulators, as part of a wider inquiry into Monte dei Paschi di Siena's acquisition of a smaller competitor. Prosecutors claim that JP Morgan withheld information from regulators concerning a $1.3-billion financing that the Wall Street bank arranged for Monte dei Paschi's takeover of the regional Italian lender Antonveneta in 2008.
What is more, the prosecutors say that Monte dei Paschi reached a so-called indemnity agreement with JP Morgan which protected the latter from potential losses linked to a hybrid financial instrument named FRESH 2008.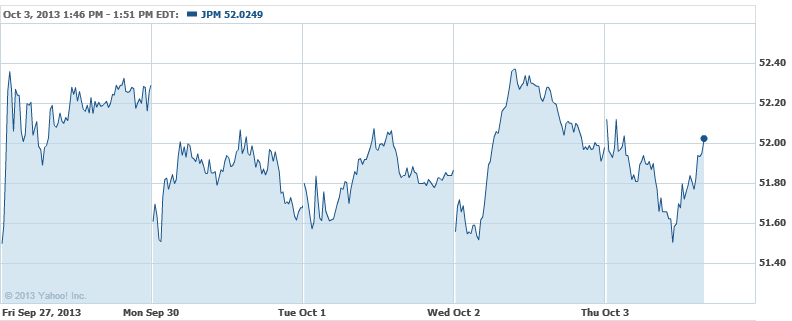 Investing Insights: Can Lululemon Break Out to New Highs This Year?