Boeing: Production on Schedule Despite Dreamliner Issue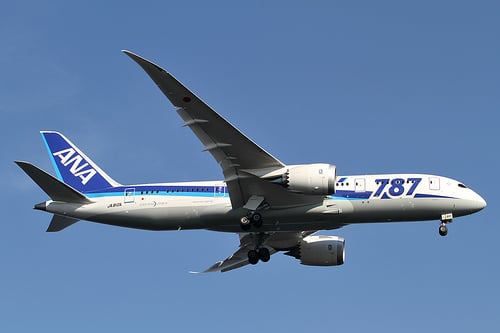 Despite the issues surrounding Dreamliner planes earlier in the year, Boeing (NYSE:BA) says its focus on damage control did not thwart its production efforts. The company performed several years' worth of work in just a few months, but the company plans to continue churning out commercial aircraft at expected rates, according to the division's chief executive.
Boeing's 787 Dreamliner planes were grounded worldwide following issues with lithium batteries inside the aircraft. Several had caught fire and the entire fleet was subsequently ruled unsafe for air travel. The company responded by grinding through three years of work in as many months, according to a Reuters report. Ray Conner, who is the chief executive of Boeing Commercial Airplanes, told reporters in advance of the Paris Air Show that the work put into a fix for the batteries did not distract the company from other production efforts and all is proceeding according to schedule.
Boeing will still deliver the expected amount of 787 jets for the remainder of the year, though it is unclear whether the company will raise its production estimate later. The company is drawing attention at the start of the Paris Air Show for the introduction of a larger version of the Dreamliner. Reuters reports say 100 orders for the new Dreamliner have already been placed, a lot that would amount to $30 billion in sales.
Boeing representatives were on Capitol Hill this week to testify on the safety overhaul for its Dreamliner planes. Because of the system in place, FAA regulators have employees of the airplane manufacturer in effect endorse their own planes as safe for the skies. The FAA says the process is time-tested and, in the case of the lithium battery fix, over 7,000 hours were spent working with Boeing on the solution.
While Boeing did compensate some airlines for the time its Dreamliner planes spent on the ground, the company focused most of its energy on a rapid reinstatement of the aircraft. Boeing's Conner also noted that competition from Airbus was forcing his company to continue cutting production costs.
"We're going to fight," Conner told the media, in response to questions about the rivalry. Airbus had a maiden voyage of its A350 planes on Friday, setting the tone for an interesting Paris Air Show.
Investing Insights: Is Southwest Too Expensive?