Boeing Receives Order From Ryanair and 4 Hot Stocks Buzzing Now
Nokia (NYSE:NOK): Current Price $4.66
The Verge reveals that Nokia (NYSE:NOK) is developing a Windows phone featuring its PureView 41 MP camera technology and the camera sensor found on the company's 808 PureView handset. The phone, dubbed EOS, would be positioned as a high-end Lumia phone and have an aluminium body instead of the polycarbonate used in recent Lumia Windows phones. The phone will reportedly be sold through AT&T (NYSE:T) later this year.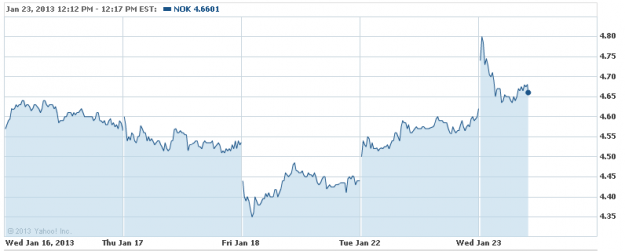 McDonald's Corporation (NYSE:MCD): Current Price $93.39
McDonald's Corporation (NYSE:MCD) reports fourth quarter EPS of $1.38 and revenue of $6.95 billion, beating by $0.04 and $0.06 billion, respectively. During the quarter, global comparable sales were higher by 0.1% while consolidated revenues increased 2%. Quarterly comparable sales were up 0.3% in the US, down 0.6% in Europe, and fell 1.7% in the APMEA region. The company plans to invest about $3.2 billion on opening 1500-1600 new restaurants and to re-image over 1,600 locations worldwide.

Are these stocks a buy or sell? Let us help you decide. Check out our Stock Picker Newsletter now.
Boeing (NYSE:BA): Current Price $74.08
Irish budget airline Ryanair may purchase about 150 Boeing (NYSE:BA) 737 passenger jets with the deal likely to be finalised within a few weeks, says Reuters, quoting industry sources. By electing to purchase the current generation 737s instead of the soon-to-arrive Max upgrade, Ryanair would likely secure substantial discounts on its purchase list price. The order would help Boeing utilise capacity in the intervening period while other customers wait for Max orders to be fulfilled, likely by 2017.

Target Corp (NYSE:TGT): Current Price $61.13
Target Corp (NYSE:TGT) has appointed Jason Goldberger as Senior Vice President responsible for all functions relating to Target's e-commerce business. Goldberger previously held senior positions with the New York-based Gilt Groupe and Omaha-based Hayneedle, being responsible for their online retailing operations. Goldberger has also worked at Amazon.com (NASDAQ:AMZN) where he was general manager for its home and sports categories.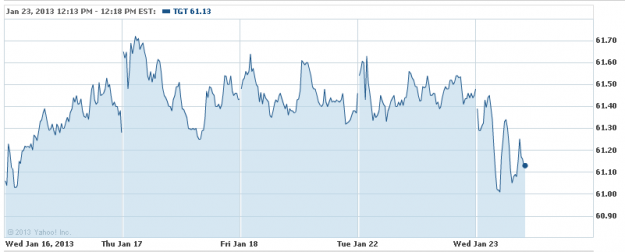 Invesco Mortgage Capital Inc (NYSE:IVR): Current Price $21.30
Invesco Mortgage Capital Inc (NYSE:IVR) announced that it had priced its public offering of 15 million shares of common stock at $21 per share, raising about $315 million before expenses. The proceeds would be utilised for additional purchases of residential and commercial mortgage-backed securities and mortgage loans, as well as general corporate purposes.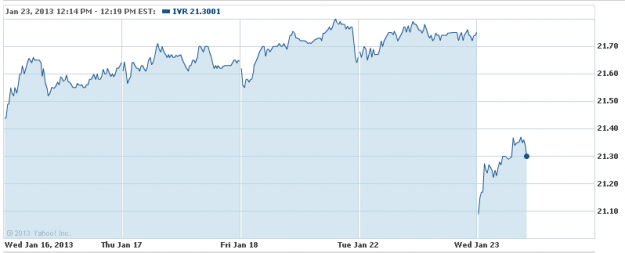 Don't Miss: Here's Why CEOs are Less Confident About 2013.