Boeing Refutes Watchdog Report, NYSE Execs Jump Ship, and 3 More Hot Stocks
Boeing Co. (NYSE:BA): Though Boeing "recognizes the important work that the Department of Defense inspector general performs," the company said it respectfully disagrees with a report that it overestimated how many new parts it would need to build the 181 CH-47F Chinook helicopters covered under the five-year contract, and then installed largely used parts, resulting in overcharges of $7.4 million to $16.6 million, Reuters reports. The Army awarded Boeing with a $4 billion contract for 177 more CH-47 helicopters on June 10.

NYSE Euronext (NYSE:NYX): In the wake of the announcement that NYSE Chief Financial Officer Michael Geltzeiler will be leaving amid the exchange's purchase by IntercontinentalExchange, General Counsel John Halvey and the company's head of HR will also be departing, Seeking Alpha reports; Reuters adds that the departing NYSE Euronext executives will be entitled to departure payments.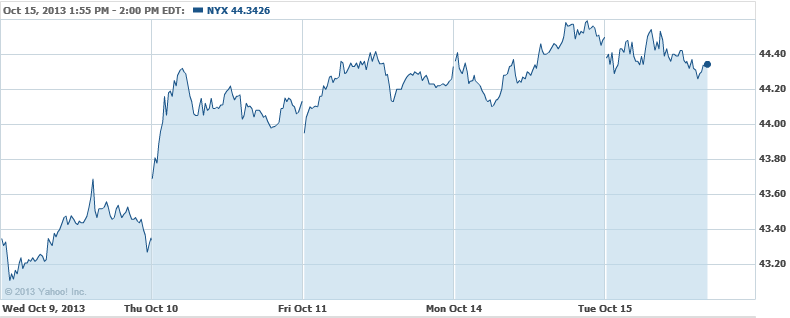 Royal Dutch Shell PLC (NYSE:RDSA): CEO Peter Voser said that it will take more time than expected in order for the company to benefit from its shale gas projects due to poor short-term results. It was soft U.S. shale results that contributed to a $2.2 billion charge that the company revealed back in August; it was also a key factor in Shell's decision to abandon its goal to deliver 4 million barrels per day of production by 2017.

Charles Schwab Corp. (NYSE:SCHW): Charles Schwab has reported earnings per share of 22 cents, beating by 2 cents, while revenue of $1.37 billion — which grew 15 percent year-over-year — also beat, by $0.03 billion. Net income of $290 million gained 17 percent from a year ago, riding on the 15 percent gain in revenue. Schwab also reaffirmed its 2014 outlook, which assumes that ongoing economic recovery and interest rates and client activity remain "at or above recent levels."

Rocket Fuel (NASDAQ:FUEL): Three favorable initiations and three neutral ones have kept Rocket Fuel trading around even; Citi and Needham rate Rocket at Buy, Piper Jaffray at Overweight, BMO and Oppenheimer at Perform, and Credit Suisse falls in with Neutral. Although the valuation is "not inexpensive, the combination of a highly disruptive offering, predictability in the revenue model, and huge market opportunities should make the stock a core growth holding," Needham says of Rocket Fuel.

Don't Miss: China Is Fed Up With Capitol Hill and the Debt Ceiling Drama.