Boeing Resumes 787 Deliveries and 2 Other Dow Movers To Watch
The Boeing Company (NYSE:BA): Current price $97.03
On Tuesday, Boeing resumed deliveries of its high-tech 787 Dreamliner jet, marking an end to almost four months in which it could not provide new planes to customers due to safety fears regarding the battery system. The delivery of the first jet with a redesigned battery system is a turning point in Boeing's 787 crisis, permitting the company to book revenue for completed sales of the jet, which runs at $207 million at list prices. As a result, Boeing shares increased by 1.4 percent to close at $96.11 on the New York Stock Exchange, representing their highest levels since November of 2007.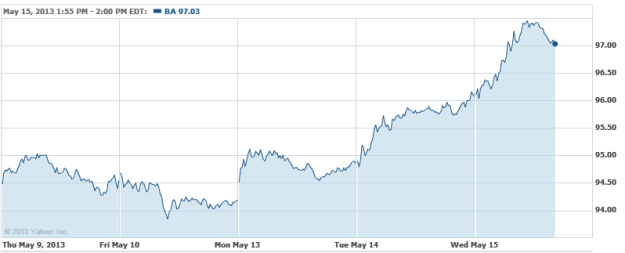 3M Company (NYSE:MMM): Current price $111.22
A new array of products from the 3M Communication Markets Division offers wireless network operators a scalable and flexible method for managing fiber and power cables at the cell site. 3M Tower Dome Terminals facilitate cable management, weatherproof sensitive connections, and permit fast and easy installation, which leads to reduced operating costs and improved network reliability. The product family will be introduced at CTIA 2013, May 20th through the 23rd, at the Sands Expo and Convention Center in Las Vegas.

Wal-Mart Stores (NYSE:WMT): Current price $79.64
The retailing behemoth has accelerated factory inspections in Bangladesh, while American and European retailers followed separate accords to try to block another disaster in a garment industry, in which over 1,200 workers have died in the last six months. Wal-Mart said that it does not intend to sign on to a fire and building safety arrangement supported by some of Europe's top apparel brands, because it is confident that its own safety inspection plans will bring quicker results. The deadline for retailers to elect whether to join the consortium, which is led by labor groups like Europe's IndustriALL, is today.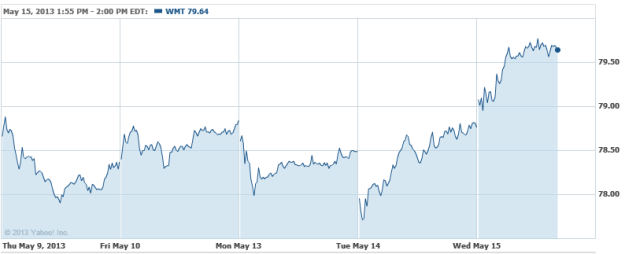 Investing Insights: Is Green Mountain Still an Outperform?