Boeing Sees Batteries Investigated by NTSB and 2 Dow Movers to Track
The Boeing Company (NYSE:BA): Current price $76.03
The National Transportation Safety Board is looking into the possibility that tiny fiber-like formations, known as dendrites, inside the lithium-ion batteries could have contributed to battery failures on two Boeing  787 Dreamliners in January, says Reuters.
The Walt Disney Company (NYSE:DIS): Current price $54.85
Disney and Univision said on Monday that they will introduce Fusion, a news and information channel aimed at English-speaking Hispanic viewers late this summer, according to The New York Times, which also reported that the channel will be  available in at least 20 million homes.
Are these stocks a buy or sell? Let us help you decide. Check out our Stock Picker Newsletter now.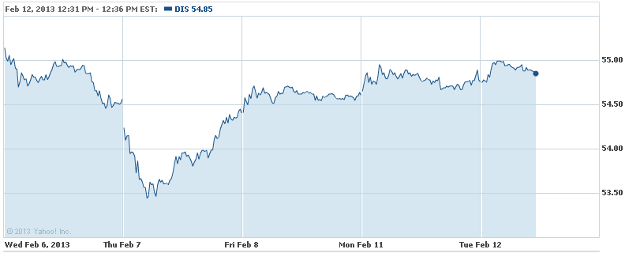 General Electric Company (NYSE:GE): Current price $22.61
GE and Google (NASDAQ:GOOG) have reached a new accord through which they will integrate Google Maps data into GE's Smallworld electrical, telecommunications and gas applications. Google's mapping content will comprise an integral part of GE's solutions, reinforcing the existing geospatial capabilities of GE's Smallworld products by supplying out-of-the-box base mapping along with visualization and analytics capabilities. GE's Distribution Management Systems and Outage Management Systems also will employ Google's mapping content in the context of operational control of electricity networks.

Don't Miss: Is U.S. Confidence Still Recovering from Congress?