Boeing Showcases Its BBJ3 In Switzerland and 2 Other Dow Movers to Watch
The Boeing Company (NYSE:BA): Current price $98.84
For the first time ever, Boeing's Business Jets is showing off a BBJ 3 at the 2013 European Business Aviation Conference and Exhibition in Geneva. The plane is based upon the 737-900ER, and was equipped with its custom VIP interiors at Jet Aviation in Basel. The BBJ 3 is presently for sale, so the exterior remains "green" or unpainted, and thus ready for a livery chosen by a new owner. The range of the BBJ 3 surpasses that of its peer business jets, and can fly 4,900 nautical miles, which is over 1,500 nautical miles farther than its direct competitor.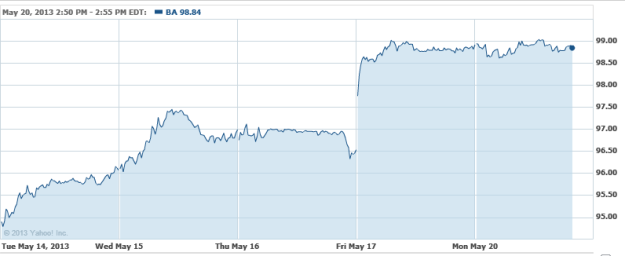 AT&T (NYSE:T): Current price $37.23
Smart grid applications by AT&T are among others used in an upgrade of  smart grid infrastructure by Duck River Electric Membership Corporation in Tennessee, as it takes an innovative approach to that effect. The utility firm is providing new services to their members by implementing Advanced Metering Infrastructure, Smart Grid Meter Data Management, and other such applications from AT&T. The Corporation is the number-four electric cooperative in Tennessee, serving roughly 71,000 members.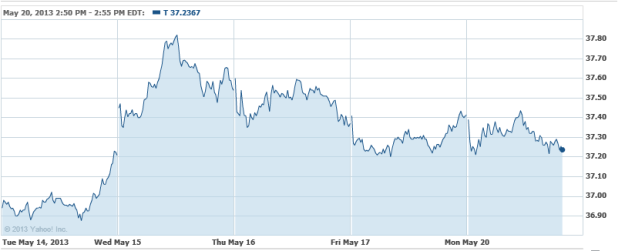 Verizon Communications (NYSE:VZ): Current price $52.97
On Monday, the United States Supreme Court decided that the Federal Communications Commission possesses the authority to attempt to quicken the process for installing wireless communications towers when local governments have not hurried to act. The case turned on a federal law mandating that state and local governments act on tower-siting applications within a "reasonable period of time." In a 6-3 vote, the court ruled that the agency has the leeway to interpret ambiguity in the law regarding the extent of its regulatory authority. For its part, the FCC had decided that 90-day and 150-day deadlines concerning decisions on cellphone towers were fair, and a federal appeals court had upheld its decision. A number of big telecoms, including Verizon Wireless, AT&T and T-Mobile USA are in support of the affirmative side in the ruling.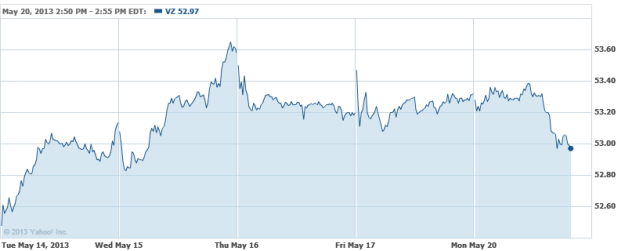 Don't Miss: Boeing's Grounded Dreamliner Can Finally Take Flight.