Boeing Test Flights Permitted and 3 Dow Movers to Follow
The Boeing Company (NYSE:BA): Current price $76.69
On Thursday night, the Federal Aviation Administration said in a statement that, "As part of our ongoing efforts to determine the root cause of recent Boeing 787 lithium-ion battery incidents, the FAA will permit Boeing to conduct test flights of 787 aircraft to gather additional data. The traveling public's safety is our highest priority. These test flights will be an important part of our efforts to ensure the safety of passengers and return these aircraft to service."

Cisco Systems (NASDAQ:CSCO): Current price $21.21
In Chicago, United States District Judge James F. Holderman threw out legal claims filed by Cisco against a licensing company in a ruling that does not bode well for the firm's hopes of combatting the so-called patent trolls. In his decision, the judge held that the aggressive licensing strategy employed by Innovatio IP Ventures against Cisco customers is protected by the United States Constitution. Companies like Innovatio, also known as patent-assertion entities, acquire patents and then seek to earn money from them through licensing and litigation.
Are these stocks a buy or sell? Let us help you decide. Check out our Stock Picker Newsletter now.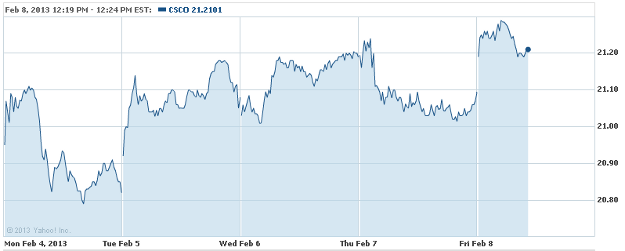 Chevron Corporation (NYSE:CVX): Current price $115.29
Chevron said that an international arbitration tribunal found that the Republic of Ecuador has violated the tribunal's previous Interim Awards authorized under international law and a treaty between the United States and Ecuador by not preventing the attempted enforcement of a $19 billion ruling against Chevron.

Microsoft Corporation (NASDAQ:MSFT): Current price $27.60
United States District Judge James Robart trimmed a patent lawsuit by Google's (NASDAQ:GOOG) Motorola Mobility unit against Microsoft, finding that parts of three Motorola patents are invalid, says Reuters. Google acquired Motorola for $12.5 billion for its intellectual property.

Don't Miss: Auto Loans and Student Debt Bubble Fuel Consumer Borrowing.