Boeing to Refund Excessive Spare Parts Charges and 2 Other Dow Movers to Watch
The Boeing Company (NYSE:BA): Current price $102.25
Perhaps wishing to avoid the old stereotype of grossly overpaying for simple parts, the Pentagon's purchasing agency says that Boeing must recompense the Defense Department $13.7 million from excessive prices charged on spare parts, among which include a $10 device for which it charged $2,286 each. In an emailed statement, spokeswoman Michelle McCaskill of the Defense Logistics Agency said that it "is seeking a refund from Boeing. The refund will be for the full $13.7 million identified" and will be requested by July 31st. The Agency overpaid roughly $1.3 million for 573 of the aluminum "bearing sleeves" used on an aircraft's main landing-gear door that should have cost $10 apiece, according to the Pentagon's inspector general in an audit labeled "For Official Use Only."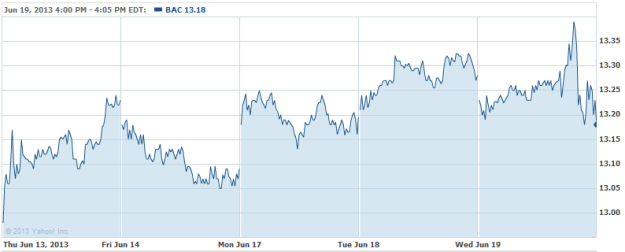 Bank of America Corporation (NYSE:BAC): Current price $13.19
A watchdog report filed in federal court on Wednesday said that four of the biggest domestic mortgage providers have failed to comply with an agreed-upon resolution. Bank of America Corp., J. P. Morgan Chase & Co., Citigroup, and Wells Fargo & Co. each  have failed one or more of the 29 metrics set forth in the landmark $25-billion national mortgage settlement between banks, federal agencies and 49 of the 50 state attorneys general.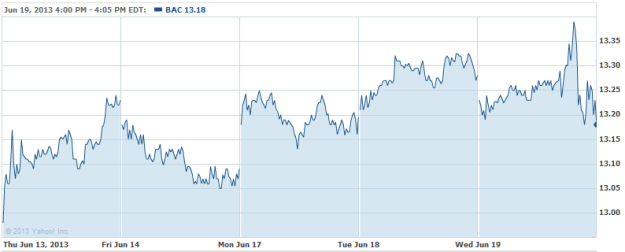 AT&T (NYSE:T): Current price $35.25
On Wednesday, AT&T and NEC Corporation of America  announced the upcoming intro of the 'ultimate workhorse' among ruggedized 4-gigabyte LTE smartphones, the NEC Terrain. The device's design is meant to break productivity bottlenecks in order to keep workforces moving forward, while at the same time keeping up with daily life outside of work. The NEC Terrain, available exclusively through AT&T Business Solutions channels, and online beginning June 21st, will go for $99.99 with a two-year agreement, and can be bought at www.ATT.com/necterrain.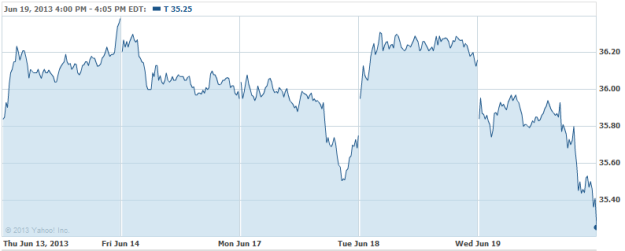 Don't Miss: Is Boeing Poised to Dominate Military Transportation?