Boeing Wins Apache Contract, BP May Tackle Iraq's Kirkuk Field, and 3 More Hot Stocks
Boeing Co. (NYSE:BA): The U.S. will be selling eight advanced Boeing Apache fighter helicopters to Indonesia in a deal worth $500 million that includes radar, training and maintenance. Defense Secretary Chuck Hagel announced the agreement during a visit to Jakarta as part of a tour of Southeast Asia. "Providing Indonesia these world-class helicopters is an example of our commitment to help build Indonesia's military capability," he said in a statement.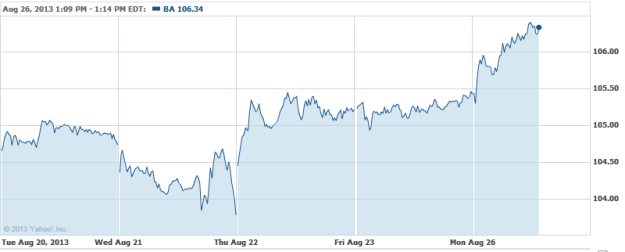 BP (NYSE:BP): Iraq's oil minister has verified that BP is showing interest in getting involved with the redevelopment of the Kirkuk oil field, though production has declined to 260,000 barrels per day from 900,000 barrels per day in the early 2000s, a result of of injecting water and the dumping of unwanted crude and other oil products into the field's reservoir.

Toyota Motor Corp. (NYSE:TM): Toyota has announced that it will be raising its discounts and incentives on the all-electric Rav4 to stimulate more demand for the vehicle, which is powered by a drivetrain from Tesla Motors (NASDAQ:TSLA). Though the car offers a 100-mile range and all the utility that a compact crossover provides, the nearly $50,000 price tag has been scaring off buyers.

UBS AG (NYSE:UBS): UBS will be shelling out $4.58 million to settle a regulatory investigation into whether its sales assistants were licensed in states where they did business. The "client service associates" allegedly took orders without having the required state registrations, according to the New Jersey Bureau of Securities. The bank neither admits nor denies the allegations, Seeking Alpha reports.

Amazon.com (NASDAQ:AMZN): An hourlong outage at Amazon's U.S.-EAST datacenter caused some of Amazon Web Services operations to go dark, affecting some big-time enterprise clients such as Instagram, Airbnb, Flipboard, Twitter's Vine, and Amazon's Audible; Netflix was able to slide through unscathed. Connectivity issues sprung up in the North Virginia datacenter, which led to elevated API error rates in the region, and snowballed from there.

Don't Miss: Boeing: "We're Continuing the Game on GPS"